October 11, 2021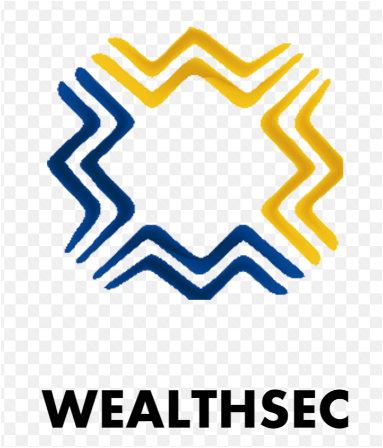 WEALTHSEC
PSEi Closes Back Above 7100
PSEi closed at 7,124.01 up 217.15 points or 3.14 percent.
#PSEiupdate Volume turnover: 2.44B shares
Value turnover: ₱11.75B Foreign buying: ₱4.18B
Foreign selling: ₱5.00B
Net foreign selling: ₱820.74
October 11, 2021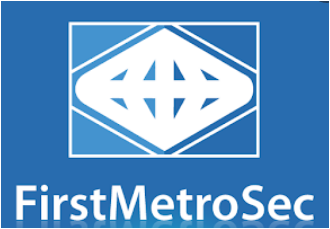 First Metro Sec
$CEB: Is transferring its operations to the newly inaugurated Bicol International Airport effective October 8, 2021.
$GLO: Claimed that porting issues are not exclusive to customers wanting to switch networks but are happening across the board.
$MPI: Latest disclosure shows that the group has repurchased P4.9-Bn worth of shares since launching a massive buyback program in October last year.
$MAC: The board has named Eduardo Luis Tan Luy, grandson of Mr. Lucio Tan, to succeed Joseph Chua as the company's president and COO.
FirstMetroSec @firstmetrosec · 5h $TEL, $ICT: Teamed up to digitalize and improve port operations using 5G technology.
$TEL: Unit e-PLDT, the ICT arm of PLDT Enterprise, teamed up with Microsoft and AudioCodes for a new cloud-based phone system, which allows businesses to combine their communications and collaboration systems in a single platform.
Eco: Octa Research Group said the National Capital Region might shift to low risk by the end of October amid decreasing infections.
Eco: London-based Capital Economics said that the rising oil prices would put upward pressure on inflation in the country this month.
Eco: UK-based data and analytics company GlobalData said that retail spending in Asia-Pacific will remain subdued in the near term as consumers are still wary of COVID even as vaccination rates continue to rise.
Oct 11, 2021 PSEi closes at 7,124.01 up by 217.15 pts (+3.14%)
October 11, 2021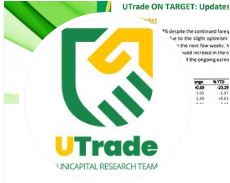 Unicapital Research (Utrade)
STOCK IN FOCUS
PSEI close at 6,906.86 after encountering resistance at the 7,076.01 and 7,098.30. The index is expected to remain sideways with a bullish bias for as long as as it stays above the 6,771.86. If you are planing to accumulate selected index stock positions for medium term hold we recommend buying on pullback opportunities near the support zones and placing a strict mental stop if the index closes bellow 6,600.00
October 11, 2021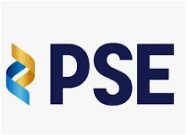 Philippine Stock Exchange
October 11, 2021: PSEi opens at 6,936.46 up 29.60 points or 0.43 percent.
As of 10:00 a.m., PSEi 7,006.75 up 99.89 points or 1.45 percent.
Megawide Construction Corporation secures SEC pre-effective letter for its follow-on preferred shares offering
As of 11:00 a.m., PSEi 7,080.47 up 173.61 points or 2.51 percent.
October 11, 2021: PSEi closed at 7,124.01 up 217.15 points or 3.14 percent.
Volume turnover: 2.44B shares
Value turnover: ₱11.75B
Foreign buying: ₱4.18B Foreign selling: ₱5.00B
Net foreign selling: ₱820.74M
October 11, 2021

2Trade Asia
Last year, ICT signed to connect its terminals globally to TradeLens, an industry platform developed by IBM & Maersk.
$TEL- $ICT tandem for port digitisation.   TEL & ICT teamed-up for 5G case study in digitalising port operations.  ICT's global portfolio comprises 34 terminals in 20 countries while Smart has started 5G in over 4,000 sites across the country to date.
Total energy harvested for 2020 in select toll plazas reached 171MW-hours, equivalent to carbon emission savings of 134,232kg.
More solar powered-toll plazas.  Metro Pacific Tollways' NLEx Corp. intends to install solar power panels in toll plazas in NLEx & SCTEx to boost energy efficiency & reduce carbon footprint.
Last Sept., it launched #14388 or CallMeWally service for 'same day pabili & delivery' service.
WalterMart rollouts.  $$M Retail plans to open 2 new WalterMart stores in Calabarzon for the remainder of the year.  The firm recently opened its 41st store in Antipolo, Rizal, & another in Bacoor, Cavite by end-Oct.
Smashburger outlet expansion.  $JFC intends to open 20 Smashburger stores this year in North America.  So far, JFC has launched 2 new Smashburger stores in Chicago & New York.
Health USec. Verger said infections for the past 2 weeks fell by 21%, while average daily attack rate was 14.73 for 100k people.  This week, four-digit cases might be seen, less than 10k on nat'l. average.
Improved likelihood for low-risk category on NCR.  OCTA Research sees improved possibility for Metro Manila to be placed on low risk category (from the current moderate risk) by month-end.
The program allows eligible RE developers to supply part of electricity generated from their facilities to qualified customers who may enjoy power prices below market rates.
GEAP launch seen to be deferred.  The Green Energy Auction program (GEAP) might not launch as planned this month, as rules are still being deliberated.
October 8, 2021

2TradeAsia
GLO said GOMO will be able to provide MNP service by 12 Oct., adding they have not received any request from a GOMO customer wanting to avail of MNP.
$GLO deferred unit's MNP launch to 12 Oct.  Smart called on NTC to probe why GLO's unit GOMO failed to take part in the mobile number portability (MNP) launch last 30 Sept.  The delay stemmed from complexity of multiple functions of GOMO's other brands.
Construction is seen to take 8 months.  A virtual hearing will be made on 21 & 28 Oct.
$SMC unit wants to link battery storage project to Luzon grid.  SMC Global Power Holdings' Universal Power Solutions (UPSI) sought ERC's clearance to link their 60MW battery energy storage system (BESS) in Concepcion, Tarlac to Luzon grid.
MER said it takes time to conclude their competitive selection process (CSP).
$MER sought for more time to comply with RE on-grid rule.  MER asked for time to implement the adjusted 2.52% annual incremental renewable energy (RE) percentage under the Renewable Portfolio standards on-grid rule starting 2023.
MBOX starts rollout.  $MM's MBOX started its rollout in community hubs for delivery of packages.  MBOX's 2030 goal is to have 5k smart lockers network to improve the firm's reach.
$ROCK gets P5bn loan facility from BDO.  ROCK notified the Exchange BDO approved its P5bn long-term facility to partly finance capex & other general corporate requirements.  No other details were given.
BSC also has 15% equity in Vintage EPC co. & VTE Int'l. Construction Co., registered in Thailand.  Vintage & VTE are primary contractors for 220MW solar project in Minbu, Myanmar.  BSC has ongoing application for 50MW wind power service contract pending approval from DoE.
The fresh capital will allow $BSC to expand its energy projects, especially for RE.  Also, BSC has 20% in Iriga Geothermal project, which is being operated by DESCO.  This project covers drilling of 2 wells up to 2022, & has DoE clearance.
M2DC private placement in BSC priced at P0.285/share, BSC updates projects.  BSC said the subscription of Map 2000 Dev't. Corp. (M2DC) to 9.827bn common shares at P0.285/share, will reduce public float from 67.79% to 24.72%.
The firms said any prior authority or representation given to Mr. Joseph Chua are deemed void & revoked.
$PAL, $MAC issued clarification on representation authority.  PAL & MAC said Mr. Joseph Chua has no authority to represent Dr. Lucio Tan, the Tan Family & the Lucio Tan Group of companies.
DBP supports ICONS lending facility.  DBP approved P39.5bn loans under its Infrastructure Contractors Support (ICONS) program.  For 1H, 440 borrowers have availed of the lending facility.  DBP will continue to support the P1.18tn BBB plan for public works & transport programs.
August 07, 2021

2TradeAsia
$PRIM-PCMC P1.7bn swap valued at P1/share.  PRIM notified the Exchange that the P1.68bn subscription shall be satisfied by PCMC Shareholders' assignment, conveyance, transfer and delivery of 349,993 PCMC shares which effectively transfers the assets
$GLO P13bn (+13%), 2Q P5.7bn (+16% YoY, -22% vs. 1Q) core P13.2bn (+19%) Annualised EPS P194.58,  10x
PGMC-$LOTO lone bid for PCSO project.  Phil. Charity Sweepstakes Office (PCSO) said Phil. Gaming Management (PGMC) & LOTO's P5.8bn bid for the 5-year lease, pertain & maintenance of 6,500 lottery terminals emerged as
PSA reported 17.6% growth in June exports to $6.51bn, versus May's +30.8%.  Imports meanwhile, rose 34.2% to $9.33bn for the month, vs. May's +55.6%.
Narrower June trade deficit.  June's trade deficit was $2.83bn, smaller than May's $3.17bn gap.  This brought 1H trade balance to $17.44bn deficit.
$AUB sold remittance unit in Singapore.  AUB sold its 100% in RediMoney Express Pte Ltd. (REPL) after receiving approval from the Monetary Authority of Singapore (MAS) last 05 Aug. 2021.
$GLO 1H capex at P43bn.  GLO's capex for 1H21 reached P43.3bn (+107%), or 57% of gross revenues for 1H, & 116% of EBITDA.  Around 88% of the amount was spent for data network, bringing its new cell sites to 641, & 8,175 site upgrades that covered both 4G LTE & 5G.
The new provision opens up major business opportunities & various strategic foreign partnerships for TBGI in the Low-Earth Orbit (LEO) space, presently dominated by Elon Mush in SpaceX & Starlink.
$TBGI gets franchise extension, eyes LEO space.  TBGI said RA11581 was signed into law, granting another 25-year franchise extension to the firm.
$PBB P524mn (-34%), 2Q P363.8mn (+127% vs 1Q) core P1.4bn (+2%) Annualised EPS P1.63, 6x
$LR said warrants remain outstanding.  LR approved the amendment moving the expiry date of its 82.5mn shares warrants from July 2021, to 20 Sept. 2021.
$ALLHC sets re-auction date for delinquent shares.  ALLHC's board approved the re-auction of 9.215mn remaining delinquent shares on 24 Sept. at 10:30am in Tutuban Center.
$SMC redeems preferred shares.  SMC requested for trading suspension for SMC2C & SMC2E preferred shares starting 07 Sept.
$SMC redeems preferred shares.  SMC requested for trading suspension for SMC2C & SMC2E preferred shares starting 07 Sept.
$AREIT P1.34bn (+31%), 2Q P937mn (+22% YoY, +133% vs 1Q)
Annualised EPS P2.45, 15x
$NIKL attrib. P2.727bn* (+579%), 2Q P2.143bn (+267% vs. 1Q)
Annualised EPS P0.40, 16x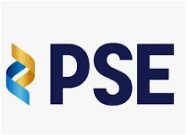 Philippine Stock Exchange
ICTSI declares a total cash dividend of P2.63 per common share
Philippine Business Bank caps the first semester of 2021 with a net income of P524 million, down by 34.1%
San Miguel Corporation's net income for the January to June period rebounds to P29.6 billion
Ginebra San Miguel, Inc. posts a net income of P2.1 billion in the first six months of the year, up by 66%
Globe Telecom registers a 13% growth in its 1H21 net income to P13 billion, declares cash dividends on common shares
AREIT, Inc.'s reported net income for the six-month period ending June 30, 2021 rises by 31% to P1.34 billion
$RLC P5.45bn (+48%), 2Q P2.56bn (+394% YoY, -11% vs. 1Q)
Annualised EPS P
$VUL approved private placement.  VUL's board approved the subscription of HGP Group up to 5.18bn shares out of the increase in authorized capital via cash &/or by way of transfer of HGP Group's ownership in ECMRC.
Also, alcoholic beverages & tobacco booked slower price increases at 10.2%, even as food inflation rose to 5.1% from 4.9% in June.  July's inflation brought 7-month average to 4.36% versus prior year's 2.5%.
Inflation slowed in July.  PSA reported 4% inflation for July, slower than June's 4.1%.  The downtrend was due to lower annual increment for transport index at 7% versus June's 9.6%.
ACRI-NEFIN enter JV for solar rooftop.  $ACEN's fully-owned AC Renewables Int'l. (ACRI) received board approval to enter 50-50 JV with NEFIN Holding Ltd. for the development, construction & operation of rooftop solar projects across Asia.
$DNL deferred commercial operations of DLPF manufacturing plant.  DNL Premium Foods Corp. (DLPF) postponed the start of commercial operations of its Batangas facility from Oct. 2021, to Jan. 2023.  The plant will produce vegetable fats  oils & food ingredients.
CNVRG & PHA will be part of services; AT, MARC & ORE will join the mining/oil index.
Also, RCB will be removed from the financials index, while industrials will include ACR & EEI, replacing PIZZA & PNX.  For holdings, LPZ will be replaced by ABA, while ALCO & DMW will be taken out of the property index.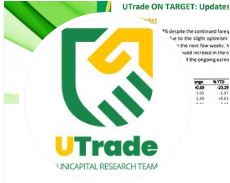 Unicapital Research (Utrade)
EEI registered a net income attributable to equity holders amounting to P250.17M in the second quarter, a reversal of its year-on-year losses of P843.3M, after generating higher revenues from its construction contracts as well as merchandise and property sales.
Preliminary data from the PSA showed inflation at 4.0% in July, slowing from June but was higher than July last year. This was the slowest in seven months or since Dec-2020. Year-to-date inflation settled at 4.4%, still above this year's forecast of 4.0%.
SMC posted a 1H21 net income of P29.6B, reversing the P4.0B net loss from a year ago, as all of its major business units posted robust recoveries. Revenues rose 16% to P410.1B, driven by higher sales generated by PCOR, SMC Global Power, SMC Infrastructure, and FB.
AC Energy Corp. (ACEN) and Converge Information and Communications Technology Solutions Inc. (CNVRG) will join the Philippine Stock Exchange index following the latest review by the local bourse. ACEN and CNVRG will take the place of DMC and EMP effective Aug. 16
TEL saw its attributable net income for the second quarter grow 10.9% to P7.1 billion, as high demand for data and broadband continued. PLDT's service revenues for the quarter climbed 10.1% to P45.9B from P41.7B in the same period in 2020.
The Philippine Stock Exchange will raise the free float level requirement of companies that are included in indices to 20% from the current level of 15%. This will be implemented for the index review in December 2022 to give listed firms more time to comply.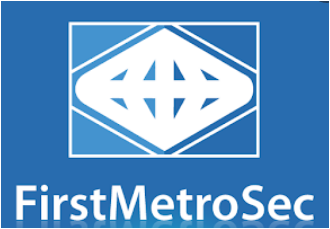 First Metro Sec
$RLC: Booked 2Q21 net income of P2.56 Bn, up 394% from P520 Mn in the same period last year, bringing 1H21 net income to P5.45 Bn, up 24% versus last year.
$GSMI: Booked 1H21 net income of P2.1 Bn, up 66% from P1.2 Bn a year ago, driven by 36% growth in revenues to P20.2 Bn and operating income expansion of 45% to P2.6 Bn.
$GLO: Booked 1H21 net income of P13.0 Bn, up 13% from P11.5 Bn in the same period last year.
$CEB: Plans to increase international flights starting August as it continuously builds back its capacity.
$ACEN, $CNVRG: The PSE adds AC Energy Corp. and Converge in the 30-member Philippine Stock Exchange index (PSEi) effective 16 August 2021, replacing DMCI Holdings Inc. and Emperador Inc.
August 02, 2021
FirstMetroSec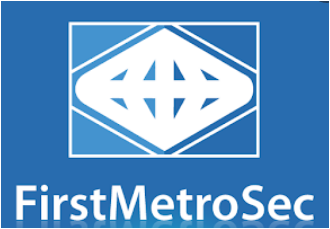 $BDO (+4.41%) : Booked 1H21 net income of P21.4 Bn versus P4.2 Bn in the same period last year on the back of a strong sustainable earnings stream and normalized provisions.
$GREEN (+2.99%), ABS (+0.54%), ABSP (-3.23%) : GREEN's board approved the purchase of ABS' 51% stake in e-wallet fintech U-Pay for P54 Mn.
$MER: Allots over P24 Bn in capex next year to ensure reliable operation of its distribution network and avert the foreseen emergency situations.
$CEB, $PAL: Announced that it will continue operating scheduled flights until Aug. 5 but plans to limit or cancel certain routes during ECQ.
$UBP: Has launched an all-in-one payment acceptance hub called Upay, which allows users to send payment requests and collect payments.
COL Financial

– $HLCM: 2Q21 profit surges to Php721Mil
Other News:
– Economy: Metro Manila under ECQ from August 6 to 20
– Banking Sector: Bank lending falls in June but at slower rate of 2.0% y/y
– $AP: 1H21 core earnings beat forecast due to income from claims
– $URC: 2Q21 core earnings drop amid higher input costs
– $AEV: 1H21 results above forecast
– $CHP: 2Q21 core net income reaches Php643Mil, ahead of COL estimate
WealthSec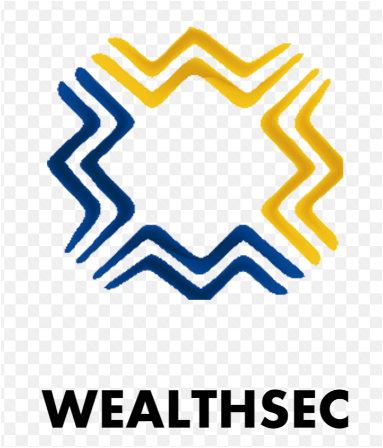 $SMPH SM Prime Reports 12% Increase in 1H2021 Net Income
$FDC Filinvest Development Corp. New 52-Week Low
$FDC Filinvest Development Corp. New 52-Week Low
$URC Buy-back of Up to Php3B Worth of Common Shares of Universal Robina Corporation
$BDO BDO Earns P21.4 Billion in 1H 2021
$PNX Phoenix records all-time-high sales volume in 2Q2021
$C Chelsea Logistics and Infra Holdings Corp. New 52-Week Low
$TECH Cirtek Holdings Philippines Corp. New 52-Week Low
2TradeAsia

#1H21Earnings (1H21 vs. 1H20)
$HLCM P1.63bn (+294%), 2Q P721.4mn vs. (P87.7mn), -21% vs 1Q
Annualised EPS P0.51, 13x
Net metering would lead to higher power charges, MER says.  $MER warned, higher net metering charges would lead to increase in generation costs as the remuneration would be reflected in the power bills of other electricity consumers.
$MER awaits clearance on proposed capex.  MER is seeking approval from ERC on its P24.72bn capex for 01 July to 30 June 2022.  The capex would support its distribution network & address forecasted load growth within the franchise area.
#1H21Earnings (1H21 vs. 1H20)
$PXP (P22.2mn) vs (P26.9mn)
#1H21Earnings (1H21 vs. 1H20)
$CHP P803.7mn (+495%), 2Q P598.2mn (+1,203% YoY,  vs 1Q)
Annualised EPS P0.12, 10x
#1H21Earnings (1H21 vs. 1H20)
$URC P8.05bn (+45.7%)*, 2Q P4.85bn (+42% YoY, +52% vs. 1Q)
core P7.3bn (-2.3%)
Annualised EPS on core P6.55, 19x
#1H21Earnings (1H21 vs. 1H20)
$IMI $0.9mn vs ($21.52mn), 2Q (1.3mn) vs. (16.9mn), & 1Q21's $2.2mn
Annualised EPS P0.04, 222x
#1H21Earnings (1H21 vs. 1H20)
$APX P488.9mn (+57%), 2Q P210mn (+9% YoY, -25% vs. 1Q)
Annualised EPS P0.16, 10x
$AP prepares early bond redemption.  AP's board approved the early redemption of P3.4bn, 12-year Series B fixed rate retail bonds issued last Sept. 2014.  AP will use existing cash  part of proceeds from the retail bonds issued earlier this year to fund prepayment.
$URC sells 60% block in Unisnack ANZ.  Intersnack Group of Europe will acquire Unisnack ANZ, a leading snacks & biscuits firm based in Australia & New Zealand from URC.  The move would raise Intersnack's block to 100%.  No amount was disclosed.
July 25, 2021

2TradeAsia
First LCS common tower activated by $DITO.  DITO's Dito Telecommunity activated the first of its 100 common towers with LCS Group in Valenzuela City.  The towers are comprised of self support towers, rapid deployment station (RDS) towers & rooftop towers.
PEx team will be retained to run Malampaya.  Malampaya Energy XP Pte Ltd. said Shell Phils. Exploration B.V.'s (SPEx) team will be retained to run Malampaya.  DoE has yet to start its review on Malampaya Energy's compliance to technical, financial & legal requirements.
PEx team will be retained to run Malampaya.  Malampaya Energy XP Pte Ltd. said Shell Phils. Exploration B.V.'s (SPEx) team will be retained to run Malampaya.  DoE has yet to start its review on Malampaya Energy's compliance to technical, financial & legal requirements.
$GREEN entered lead generation deal with DITO.  GREEN signed one-year MoA with Dito Telecommunity Corp. where GREEN shall render commission-based lead generation services to DITO to lead the public to DITO-reated programs & services via offline or digital means.
Digital platform from $DFNN unit.  DFNN affiliate, iWave Advanced Research Group, launched its trading platform for digital assets, including cryptocurrencies at the Freeport Area of Bataan.
DoH confirmed local transmission of Delta variant.  DoH said the Phil. Genome Center's phylogenetic analysis confirmed local transmission of the Delta variant, bringing the total cases to 47.  Of these, 3 were in Metro Manila.
$DWC formed unit that will acquire Davao properties.  DWC incorporated One Davao Corp. with an authorized capital of P100mn.  DWC will subscribe to 11mn shares at P1/share par value, & will be a fully-owned unit of DWC.
This means the bill would no longer go through the bicameral conference committee's review.  The 5% tax on gross gaming receipts & 25% tax on gross income for non-resident aliens working for POGO providers would raise P13.4bn for the initial year.
Congress adopts Senate version on POGO tax.  Congress will adopt the Senate's version of the proposed taxes on Phil. Offshore Gaming Operators (POGOs).

COL financial
– $GTCAP: Vehicle sales continue to recover
– $BPI: 2Q21 net income expands 28.5% y/y on lower provisions; in line with estimates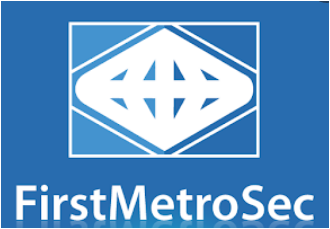 First Metro Sec
$AT (+12.26%): Booked 1H21 net income of P1.94 Bn from, a reversal of P190 Mn net loss in the same period last year, driven by higher metal prices and improved production and shipment in Q2.
$SMC (+0.45%): Unit SMC Global Power Holdings Corp. to convert a proposed 300-MW coal plant in San Carlos, Negros Occidental to a gas-powered facility, in line with the group's sustainability initiatives.
$GREEN (-12.24%), $DITO (-6.18%): GREEN executed an MOA w/ DITO for commission based lead generation services to DITO to lead the public to DITO-related programs and services through offline or online means using its own system or the system of any of its third-party affiliates.
Eco: Stricter quarantine measures have been re-imposed in Metro Manila for the rest of the month after a confirmed local transmission of the delta variant. The earlier decision to allow children in parks and playgrounds has also been reversed.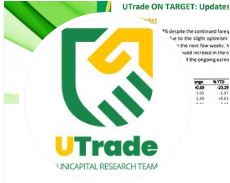 Unicapital Research
BPI posted a 29% jump in net income to P6.8B in 2Q21 due to lower loan loss provisions. For the first semester, net income went up 1% to P11.8B. The bank set aside P6.5B in provisions for credit losses, a 56% drop from P14.7B last year.
@UTradePH
Shares posted modest gains, led by tech shares, despite an unexpected increase in jobless claims that resurfaced some concerns about the economy. Dow Jones rose 25 points to 34,823 while the S&P 500 climbed 0.2% to 4,367.
@UTradePH
AC healthcare unit will invest at least P2B for the construction and development of the country's first specialty cancer hospital. Healthway Cancer Care Center will be constructed in Taguig and will have a 100-bed capacity that is set to be completed by July 2023.
@UTradePH
July 21, 2021

1. Fitch lowered its outlook on local banks to 'negative'.  Fitch Ratings lowered its outlook for Phil. banks from 'stable', to 'negative', due to downside risks on medium-term prospects given the pandemic.
2. Outlook was lowered for Landbank & DBP, but  affirmed its BBB grade.  Also, BBB was assigned for BDO, BPI & MBT, and BB for PNB.
3. More China Tim Ho Wan stores from $JFC.  JFC plans to open 100 Tim Ho Wan restaurants in China in the next 4 years.  The firm opened its first Tim Ho Wan in Shanghai's Changning District, & 3 more will be opened by Sept. in Hongkou, Jing'an & Minhang.
4. FILREIT pricing at P7/share.  Filinvest REIT (FILREIT) priced its IPO at P7/share versus the P8.30/share threshold.  The offer comprises 1.63bn common shares owned by FLI, with 163.42mn common shares over-allotment.
Proceeds will be used for FLI's retail malls & expansion of its district cooling system.
5. Wind farm projects in Vietnam from $ACEN.  ACEN & its partners are investing $445mn for 5 wind farms in Vietnam.  This includes 170MW Mui Ne wind farm in Binh Thuan; 60MW Lac Hoa & Hoa Dong, among others.  All 5 wind farms are set for operations this year.
6. $C launches latest RoPax vessel.  C will deploy its 12th Japan-made roll-on/roll-off passenger (RoPax) vessel, MV Trans-Asia 21, to Cebu-CDO route.  This will be via C's subsidiary, Trans-Asia Shipping Lines.  The vessel can carry 1,085 passengers, 24 buses & 11 trucks.
7. $DITO unit formed 'Unalytics'.  Dito CME Holdings via fully-owned ISM Equities Corp, formed a managed analytics unit called 'Unalytics'.  This is via its partnership with SAS, a global leader in analytics, artificial intelligence (AI) & data management.
8. Foreign nationals may be directors, but not officers, SEC says.  SEC said foreign nationals may be elected as directors of corporations, but cannot hold officer roles.
9. This was in response to Prime Strategic Holdings' subsidiary, Trident Water Company Holdings, which bought 51% voting shares in MWC.  SEC said, since MWC operates a public utility, foreign equity is limited to 40%.  As of 2020, MWC's foreign equity is 24.59%.
10. ADB retained growth outlook on Philippines.  ADB maintained its 4.5% GDP outlook for 2021, & 5.5% for 2022.  The bank sees sustained fiscal spending on infra & social assistance programs supporting recovery.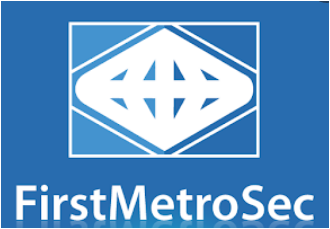 Market: The PSE has approved Del Monte Phils Inc's (DMPI) P44-Bn IPO. 699.33 Mn secondary common shares will be offered at up to P54.80 apiece, with an overallotment option of 104.899 Mn common shares.
$ACEN: ACEN and its partners are pouring in US$445 Mn for the joint development of five wind farms in Vietnam with an aggregate capacity of 570 MW. ACEN presently has 637 MW in attributable capacity from its RE projects in Vietnam.
$UBP: BSP has approved the bank's application for authority to establish a digital bank, to be called as Union Digital Bank.
$GLO: Seeks to suspend the trading of its Series A Non-Voting Perpetual Preferred Shares (GLOPP) as these will be redeemed on August 22, 2021.
$MPI: Unit Metro Pacific Tollways Corp. announced that it will complete its P155 Bn Urban Ring Road, a network linking expressways in all four directions of Metro Manila, in 3-5 years.
$FILRT: Has set the final offer price for its IPO at P7/sh, which implies 6.6%/6.9% dividend yield on the company's FY22/23 estimates. FILRT will offer 1.63 Bn common shares owned by REIT sponsor FLI, with an overallotment option of 163.42 Mn common shares.
Auto: Imported vehicle sales accelerated 55% y/y to 30,153 units in 1H21 amid less stringent lockdown restrictions vs the same period last year.
Eco: Moody's Analytics is keeping its economic growth forecast for the country at 4.8% this year but warned of potential downward risk because of the new Delta COVID-19.
Eco: The Asian Development Bank kept its PH economic growth forecast at 4.5% in 2021 and 5.5% in 2022, taking into account the gradual recovery and the faster pace of vaccination.
Telco: PH broadband and wireless network speed improved in June, as the country's mobile speed moved to the 75th spot from 77 in May and fix broadband up 3 notches from 65th, citing Ookla.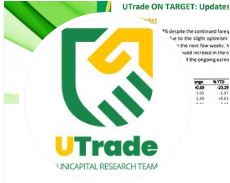 1. The DILG is urging LGUs to develop strategies to address the possible local transmission of the COVID-19 Delta variant. Interior Sec. Eduardo Año said the PH has so far recorded 36 cases of the Delta variant and it is possible that more people are carrying it.
2. Fitch Ratings lowered the outlook of state-run Land Bank of the Philippines (Landbank) and Development Bank of the Philippines (DBP) from stable to negative but affirmed their investment grade rating of BBB.
3. According to the Institute for Energy Economics and Financial Analysis (IEEFA), global debt and equity investors continue to pour in capital into the renewable energy sector, which is consistently providing investment opportunities despite the ongoing COVID-19 pandemic.
4. Filinvest REIT Corp. (FILRT) set the final offer price for its IPO at P7.00 per share, or 15.7% lower than the P8.30 initial maximum price. According to a disclosure, FILREIT said it expects its offer period to run from July 23 to Aug. 3 (tent. listing date: Aug 12).
5. The peso closed at P50.34 against the dollar, shedding 10.5 centavos, due to concerns over the Delta variant of the COVID-19 and following losses at the local stock market.
July 17, 2021

2TradeAsia@2TradeAsia·Another IPO cleared.  Del Monte Phils.' P44bn IPO was cleared by SEC, with offer run on 9-13 Aug., listing on 23 Aug.  The firm will offer 699.33mn secondary shares for P54.80/share, with over-allotment option of as much as 104.899mn common shares.
2TradeAsia@2TradeAsia·$VUL valued share issuance to HGP Group at P1/share.  VUL valued the subscription of East Coast Mineral Resources Company Inc. (ECMRC, represented by Hilario G.
2TradeAsia@2TradeAsia·$DDMPR updates project disbursements.  DDMPR updated the Exchange that out of P6.839bn net proceeds from its IPO, P1.2bn were disbursed for the following properties:  CentralHub Industrial Centers (P968mn); & Jollibee Towers (P234mn).
2TradeAsia@2TradeAsia·Delta variant cases reached 16, and tagged already as recovered.  DoH reported 16 new cases of Delta covid-19 variant, which includes the first 11 cases.  Of the 16, 5 were from OFWs, the rest are local.  Six cases came from Region 10.  All have been classified as recovered.
Read more here