The current levels of the US stock market reflects a bearish scenario where the indices are currently at its lowest levels for 2022 due to the issues in inflation and high interest rates. The market is currently pricing that so even though the companies are reflecting recovery in earnings, the prices of major stocks are pressured. Thus the volatility we are currently encountering.
We have the same scenario in the Philippine market. This reminds me that we are currently in a scenario where the prices have potential to move up as the macro fundamentals of the stocks starts to improve in the future.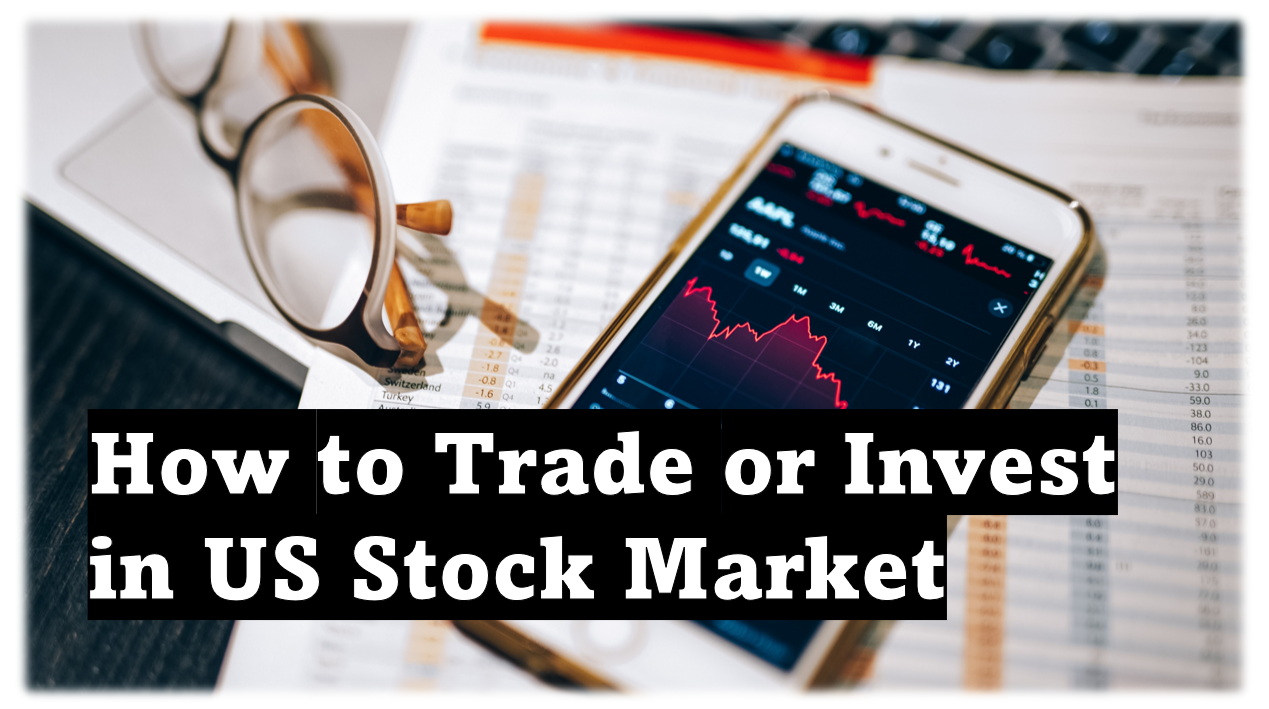 Is it good to invest in US market?
The US markets proved time and again that it is one of the most resilient of indices in the world as it has surpassed its pre-pandemic levels (7,000) already, even today the Nasdaq, is at 12,700 levels, it even peaked at 16,000 levels. So it would make sense that it is good to diversify our investments as well to be able to ride one of the best investment vehicles in the world.
High Liquidity of US Stocks for Investment
Since majority of the world investors put their estake in US economy, most of its biggest stocks are very liquid. The amount of money going in and out is in the order of trillions in USD (~30Trillion USD) so we can easily get our capital anytime we would like, we can sell our assets anytime
How many stocks are Listed in US market?
In total there are more than 2,500 stocks listed in the US market, so we can select as much as we can if we have enough capital to invest.
Whereas in the Philippine market, our index is still below the 8000 level when the pandemic began. So we are missing a lot of opportunity trading only Philippine stocks.
The advancement in trading brokerage platforms helped pave the way for individual investors like us in the Philippines, such as the development of CFD trading where you can buy a portion of the stocks at an affordable price say $50.
What time can we trade US Market in Philippines
We can start buying and selling stocks in US market when it opens 9:30pm – 4:00am. We have a 12 hour time difference as they start 9:30am – 4:00pm in US time zone.
How to Start Trading US Stocks
1. Open an online brokerage stocks that allows foreigners to invest in US
2. Learn basic of the platform, how to start buying and selling stocks
3. Study first the stocks that you want to invest in, or better start with indices as they cover majority of stocks (Nasadaq, S&P500 and DJIA)
4. Build a watch list
5. Open a trade order
6. Set stop loss or Take profit areas
7. Execute smaller trades at start while learning the volatility and price action movement of the US stocks.
How to Open an Online brokerage stocks in US (eToro)
There are several famous brokerage stocks that you can utilize for this application. The most common brokers used by Filipinos is eToro due to simplicity of platform usage.
1) Open an account
2) Verify your email address
3) Add your personal information and your investment experience
4) Verify your phone number
5) Verify your identity
6) Verify your address
7) Make a deposit
How to Open an Online brokerage stocks in US (XM Trading)
You can also utilize XM trading. I used both platforms for trading and and investing in the US market
Here is the procedure for opening an account using XM trading.
You can open an XM trading account through this link: https://clicks.pipaffiliates.com/c?c=610128&l=en&p=1
How to build watch list of Stocks in US market
On the left center of your homepage click the watchlist button (eye symbol) and then type the code of the stock you want to add in your watchlist for this example is Nasdaq100, then after clicking the check mark, the code will be added to your watchlist.
For starters better invest on the major indices first before diving on individual stocks to get a feel of how to trade in the US market. This will lessen your stock volatility. Make sure to check also our articles on the three major indices in US market.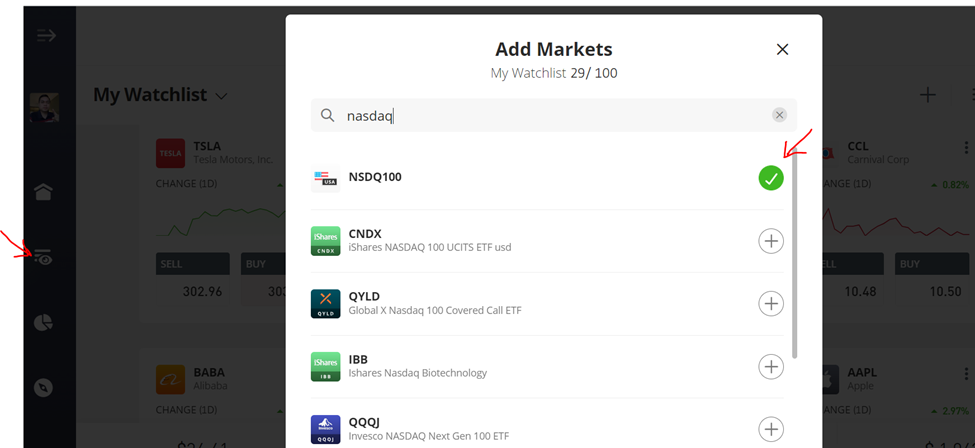 How to start buying US stocks (etoro)
I will put a link to a youtube video for your easier guide on the platform.
Open this link https://www.youtube.com/watch?v=g1jim35erQI to learn how to start buying US stocks in eToro.
On the home section go to the search option of your account, and then type the code of your stock. For our example I will try to buy Nasdaq 100 indices, type Nasdaq and select NSDQ100.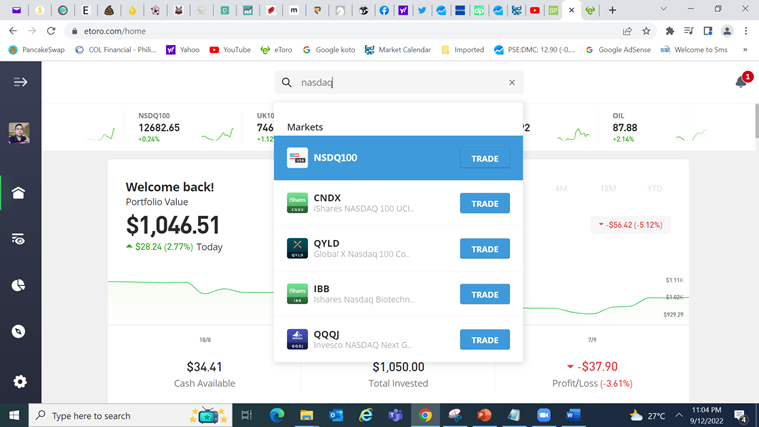 After opening Nasdaq100, click the trade portion of the stock code and set the amount of investment. Remember to buy long as we are doing long term investment and not the sell button. Sell button is for short selling of stocks where we earn when the stock price go down but we lose if the stock price goes up.
Also do not forget to set the leverage to x1 or x2 only, for starts use low or no leverage. At x20 leverage a 1% loss will translate to a 20% loss in your portfolio so practice risk management.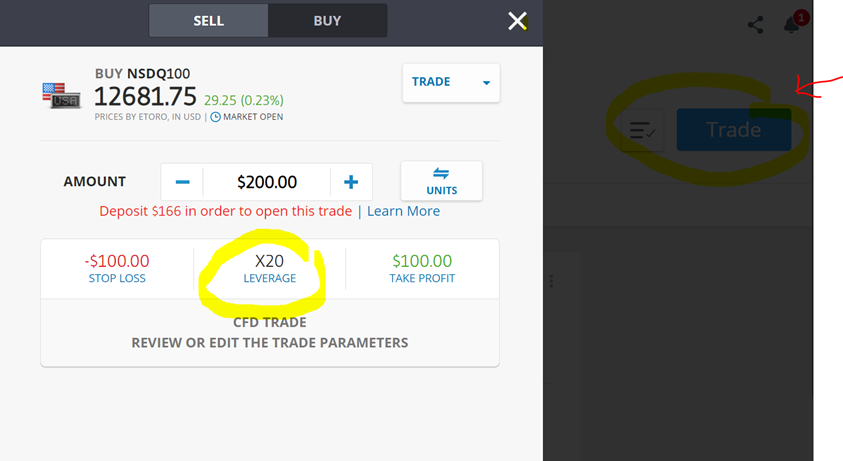 After buying and executing trades it will look like this. You can click the "close all" button if you want to sell the stock at market price.

How to Set Stop Loss or Take Profits in Your Trades
Select the stock that you want to edit the stop loss or take profit. Click "stop loss" and set the amount of stop loss and for take profit, click "Take Profit" button and select the take profit price.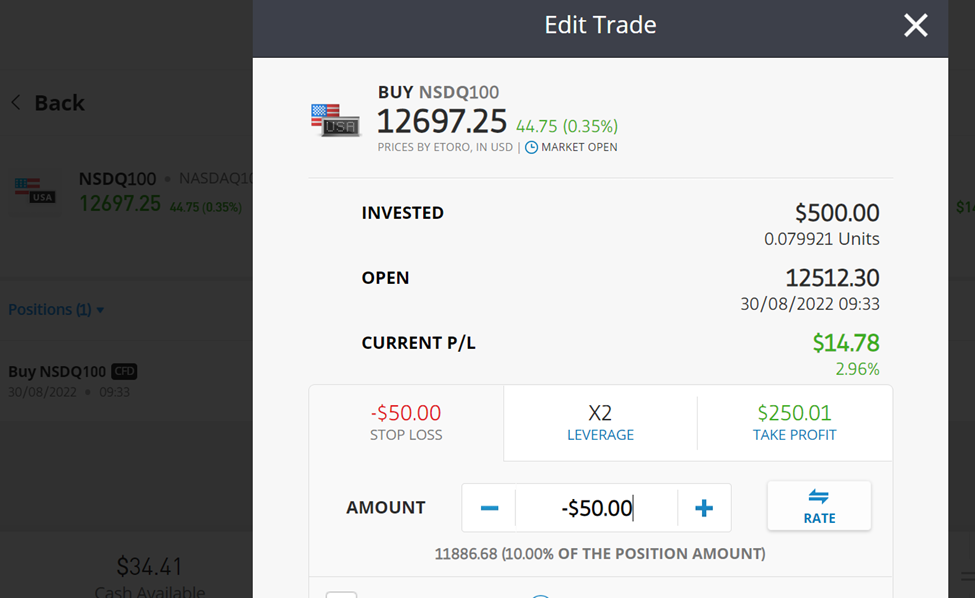 Always remember to get your profits when the markets are doing good. Don't expect it to run up continuously as there are a whole lot of reasons for the stock to move up and down.
Execute Smaller Trades as you Learn investing
Do not rush your investing journey. Time will be your greatest ally in investing in the market. As you can see from the chart on of Nasdaq, overtime the market goes up but in shorter time frames it moves up and down significantly.
Looking for other Investment Sources?
For other references regarding Investment vehicles, you can check also articles from Thrifty Pinay (Best Investments in the Philippines 2022). I have been following her articles and they were great sources for Filipinos to start with.
https://www.thethriftypinay.com/2020/05/24/table-of-investments/
Related Articles
What is S&P 500 Index, 30 BEST COMPANIES in US Stock
NASDAQ Composite Index, 20 BEST COMPANIES in US Stocks
DOW JONES Industrial Index, 30 BEST COMPANIES in US Stocks