(Last Updated On: September 13, 2022)
Investing in the stock market as we all know sometimes pose significant difficulty especially if we are trying to trade the markets in the short term. With the current volatility that we are experiencing and the erratic movement of the index as the market tries to price in the "interest rate hikes" of the US Federal states and the upcoming rate hike also of the Philippine government through the Banko Sentral ng Pilipinas (BSP), its quite hard to predict the market movement in the short term.
Can you beat the Stock Market?
In the Philippine stock context, we lose money when the market goes down as we can't win trades if the market goes down. Philippines supports only long market executions and it means we can earn only when the market is going high. We almost hit the bear market as we've seen drops of up to 15% of the index from its recent high last February
Sure, you can invest also for the long term in the market and wait for maybe around 3-5 years and check later whether the stock you selected managed to survive the uncertainties in the market. It can be profitable as well especially if you already have a know how on managing your risk.
But for those who doesn't have the time to analyze the market and ride the trend this would require some time to master the risk management requirement and to control one's emotion and resist to act according to your personal opinion on the market, it is wiser to diversify your personal assets rather than risking all at once in the market.
MP2 Savings Annual Dividends
MP2 savings is a great alternative as for those who can't try to beat the market movements. Historically its average yield dividend is above 5% which makes it more amazing as we compare with the interest the banks are willing to pay. Some banks pay a meager 1-3% interest per year and still comes with government tax.
So, this means that the higher we save on the Pag-Ibig MP2 Savings, the more we can earn without thinking too much on how we are going to beat the market. The higher dividend yield from the MP2 Savings come from the fact that this government agency allots 70% of its earnings to distribute as dividend on this program.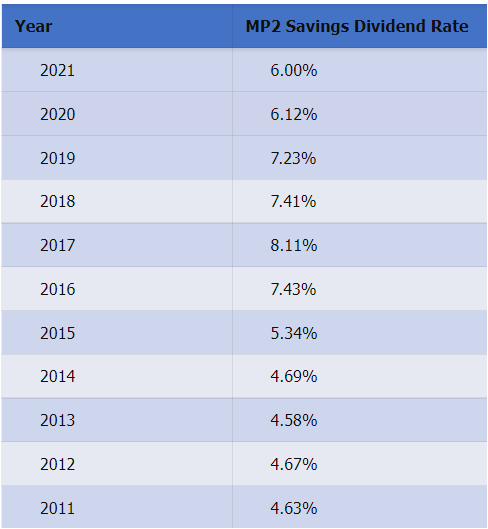 Below are the list of common questions and answers about the Government program. You can refer also on its website for more updated terms of the savings.
https://www.pagibigfund.gov.ph/Membership_ModifiedPagIBIG2.html
Where can I find other ways to Earn?
I have written same article on Money Earnerz.com, you can check also there some money-making tips based on my experiences past and present. This is a blog website I have created to help my fellow Filipinos improve our personal finances. This is my additional article for Pag-Ibig MP2 and its benefits.
https://moneyearnerz.com/blog/
What is Pag-IBIG Fund MP2 Savings Program?
The MP2 Savings Program is a voluntary savings program for members who wish to save more and earn higher dividends than the regular Pag-IBIG Savings Program.
Who can save under the Program?
• Active Pag-IBIG Fund Members; and
• Former Pag-IBIG Fund Members with source of monthly income and/or Pensioners, regardless of age, with at least an equivalent of 24 monthly savings.
Is there a limit to how much I can save?
There is no limit. You can save as much as you want under the MP2 Savings Program. In the event that you wish to save an amount exceeding PhP500,000, you would have to remit the amount via personal or manager's check.
How much dividends will my savings earn?
Your MP2 Savings shall earn dividends at a higher rate than that of the regular Pag-IBIG Savings Program. The dividends you shall earn are tax-free. Your dividends are derived from no less than 70% of the Pag-IBIG Fund's annual net income. Our 3-year average MP2 Dividend Rate is at 6.96%. Last year, the MP2 Dividend Rate was 8.11% – its highest ever. Kindly refer to the table in this brochure for indicative MP2 Dividends that your MP2 Savings may earn.
When can I receive my MP2 Dividends?
You can choose to receive your MP2 Dividends through any of the following options:
• Upon its 5-year maturity, with your MP2 Dividends compounded; or
• Annually, with your MP2 Dividends credited to your savings or checking account with Land Bank of the Philippines (LBP), Development Bank of the Philippines (DBP) or other banks that the Pag-IBIG Fund may accredit in the future. For members who opt for annual dividend pay-out but have no Philippine bank account, especially in the case of overseas members, MP2 Dividends shall be released via check payable to the MP2 Saver.
Can my MP2 Savings be withdrawn prior to its 5-year maturity?
The MP2 Savings can be withdrawn prior to maturity under any of the following circumstances:
• Total disability or insanity
• Separation from service by reason of health
• Death of the member or of any of his/her immediate family member
• Retirement (except when the MP2 Saver is already a retiree)
• Permanent departure from the country
• Distressed member due to unemployment limited to layoff and/or closure of company
• Critical illness of the member or any of his immediate family member, as certified by a licensed physician, subject to the approval of Pag-IBIG Fund
• Repatriation of an Overseas Filipino Worker (OFW) member from host
How do I pay my Pag-IBIG MP2 Savings?
• Salary deduction, for those employed
• Over-the-Counter, in any Pag-IBIG Fund Branch nearest you
• Accredited collection partners. Visit www.pagibigfund.gov.ph/payments/paymentfacilities.html to know our growing list of collection partners
Examples of potential Earnings from the Dividends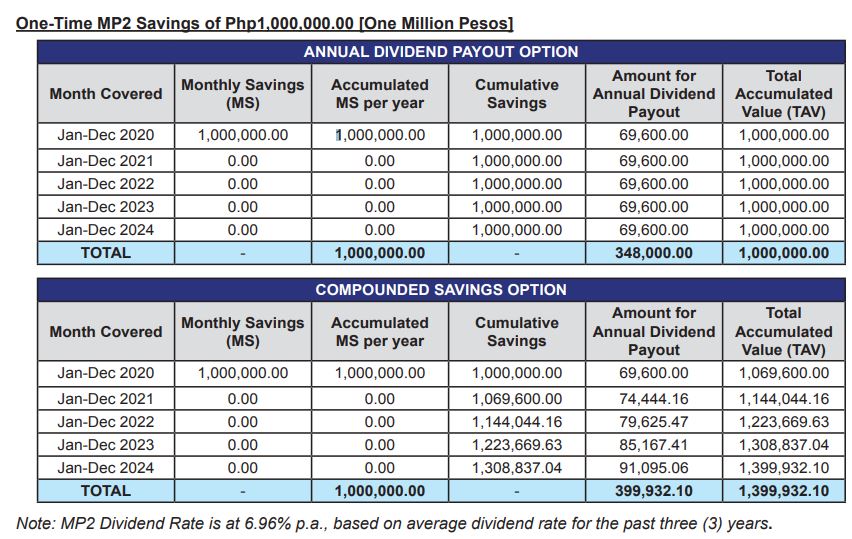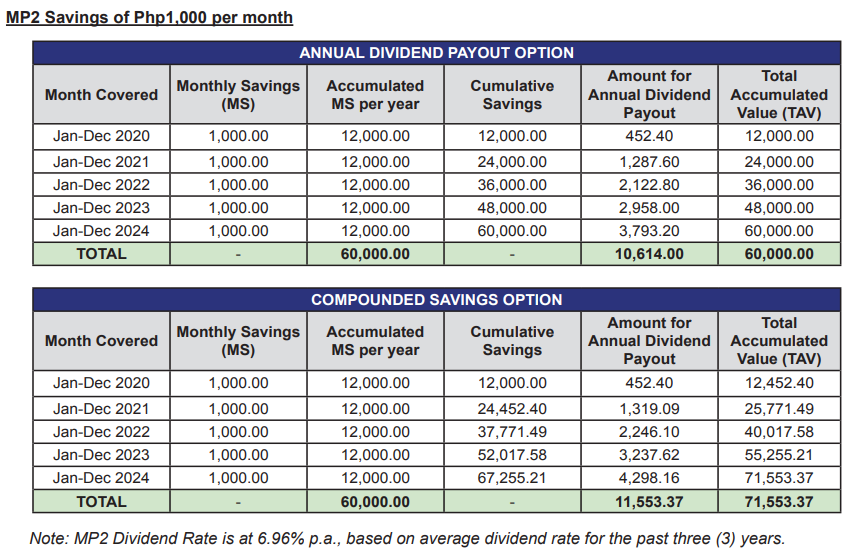 Related Articles
Money Earnerz, Finding Financial Freedom
Before You Invest, You need to Save, How Will you do it?
Do you have a goal why you do Side hustles or Side Income?
13, 019 Php, My Google Adsense Earnings for May 2022
| Item Photo | Cost (Php) | Item Description |
| --- | --- | --- |
| Click Here to View | 456.0 | Original Portable Hanging Neck Fan Rechargeable Usb Mini Fan Electric Fan Headset Fan Outdoor Sports |
| Click Here to View | 1,399 | OPPO Band B1 Bluetooth Watch 1.1-inch AMOLED Screen Continuous SpO2 Monitoring 50M Water Resistance |
| Click Here to View | 5,290 | realme C11 2021 (2+32GB) |