The supermarket led by Billionaire Manny Villar is set to debut on the Philippine stock exchange (PSE) this October as its recent IPO request have been accepted by the Securities and Exchange commission. It will be listed on the PSE market with ticker symbol of "ALLDY".

The company will try to rake in as much as 5.296 Billion upon fully subscription of its IPO. It plans to offer 6.9 Billion common shares and with an overallotment of 685.7Million. If overallotment is consumed the total IPO proceeds will reach more than 6 Billion pesos.
The offer price for ALLDAY mart is Php 0.8/share making it very attractive to small time retailers because it is quite affordable. Its line of products which includes basic needs will have no issue as well as this is a basic necessity product lines.
Allday IPO important dates include its Offer period from October 18-25, 2021 while its listing date will on November 3, 2021
Majority of the shares will be under Institutional investors taking in as much as 70% of the allocated IPO shares while small retailers will comprise of the remaining 30%. Breaking it down further will result to 20% allocation for trading participants while 10% for the retailers like us.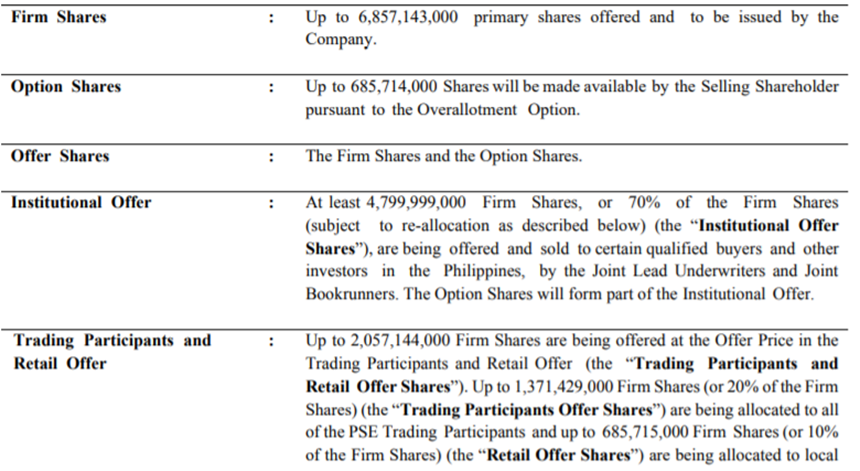 Minimum subscription for ALLDAY shares will be at multiple of 1,000 shares .

For Allday Mart background, currently it has 33 Supermarkets (located mostly in Cavite Area) in 25 cities and municipalities. Total floor space is now at 55,881. It recorded P4.5Billion in sales and P179.6million net profit in 1st half  of 2021. This is Equivalent to 19.7% and 55.8%  y/y profits
Allday IPO proceeds will be utilize for;
•It will pay its debt and fund expenditures (77.5% or 4.1 Billion of proceeds for loan)
•It will expand its store network expansion (22.5% of IPO)
•Aims to have 45 stores by 2022 and 100 stores by 2026
As fat as the financial statement of ALLDAY, it has been earnings good income for the past years. 1st half for 2021 is more than 50% higher net income as compared to the same period last year.