(Last Updated On: October 1, 2021)
The PSE market move by -0.42% as it tries to digest the inflation data release by the government for the month. According to Banko Sentral ng Pilipinas (BSP) governor Benjamin Diokno, the inflation topped the consumer price index by 4.8-5.6%. This is way higher than the BSP estimate of 2-4%. On the other side alert level 4 is also maintained in Metro Manila but with increase (10%) on economic activities like dine in while allowing gyms, studio at 20% capacity for fully vaccinated individuals.
PSEI index move to close at 6923.6, with a net foreign value of +2.8Billion, marking the entry of Megaworld REIT (MREIT) in PSE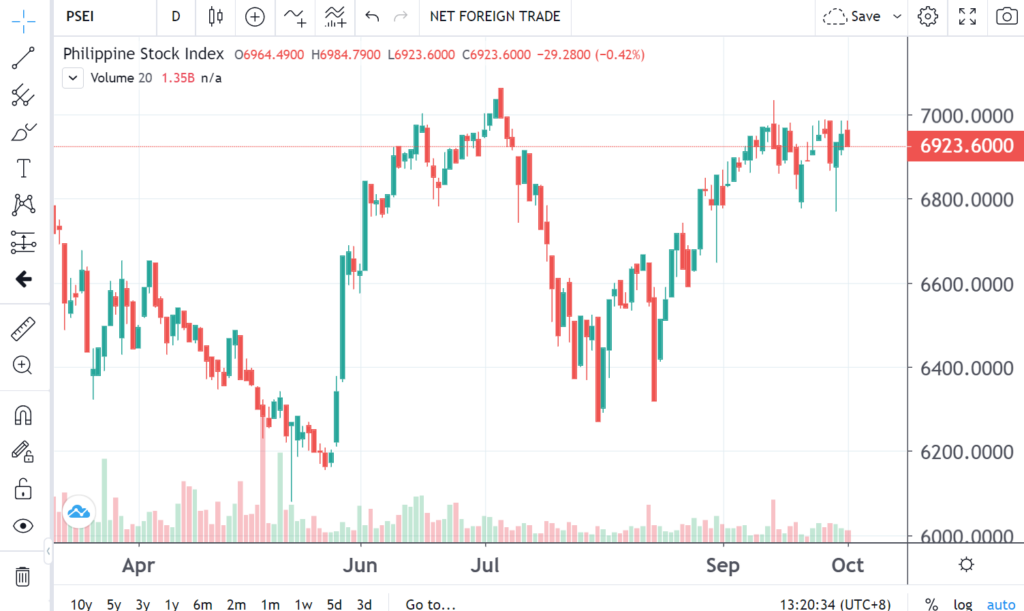 The blue chip index is led by ACEN (3.01%) as news regarding the power crunch in China kept energy prices at high. JGS (-3.54%) led the decline of the PSEI index. The power sector positive move was reflected by SCC (+6.19%) which is a major coal producer for its power plants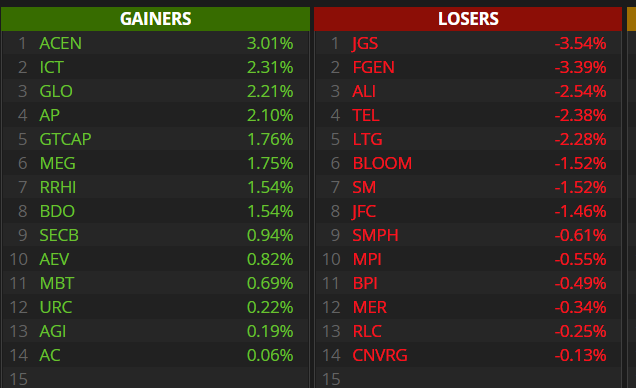 For the sector distribution, Properties led the decline while Mining (SCC) led the sector.

INFLATION HIT 4.9% in August
According to reports release today, the August inflation of the country rose by as much as 4.9% this August caused by the recent typhoons effect on the low production of commodities and supplies and the resurgence of African Swine fever by this month. For September this is expected to rose by more than 5%, before going back to the government target of 2-4% this year.
BSP reports showed that "Inflation will be driven by the upward adjustments in domestic oil prices, Manila Electric Co. (Meralco) electricity rates, suggested retail prices of basic necessities and prime commodities, and prices of selected fruits and vegetables as well as rice".
BSP however is looking not to raise the interest rates as per reports and would maintain it at its initial target of 2% level. The governor addressed that interest rates would not be the solution but non monetary measures can be implemented. They will again look into this by November 18 interest rates next review.
Metro Manila Alert level 4
Metro Manila will stay under Alert level 4 but economic activities will be improved. This level will be imposed until October 15, 2021.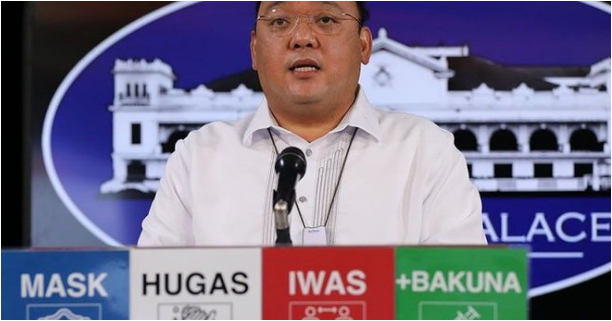 According to Spokesperson Harry Roque, "The IATF also approved the recommendation to expand by an additional 10% the allowable indoor capacities of dine-in services, in-person religious services, and personal care services in areas under Alert Level 4 of the pilot implementation of alert levels system, for fully vaccinated individuals"
IATF also allowed also opening outdoor activities at 20% capacity (fitness gyms, studio) for fully vaccinated indivuduals.
Government will also start the pilot testing for vaccination of younger individuals (12-17 yrs old) utilizing vaccines with emergency use Authorization. Pilot test will start by October 15, 2021