(Last Updated On: October 5, 2021)
The PSE market managed to close on positive side closing at 0.29% due to buying on the pre-closing period. It stayed closer to yesterdays position. The market could be pricing in the declining covid cases and the continued arrival of procured covid19 vaccines.
The initial weakness during the opening could have been due to the effect of the drop in the US indexes yesterday as the Nasdaq index dropped by more than 2%. Currently futures are pointing to the positive side. Meanwhile due to rising global oil prices, Oil related stocks like Petron Corporation and Shell Philippines led the market movements.
The index close at 6,981.24 with a net foreign selling of -709.3Million. The net foreign selling continued for a few days now.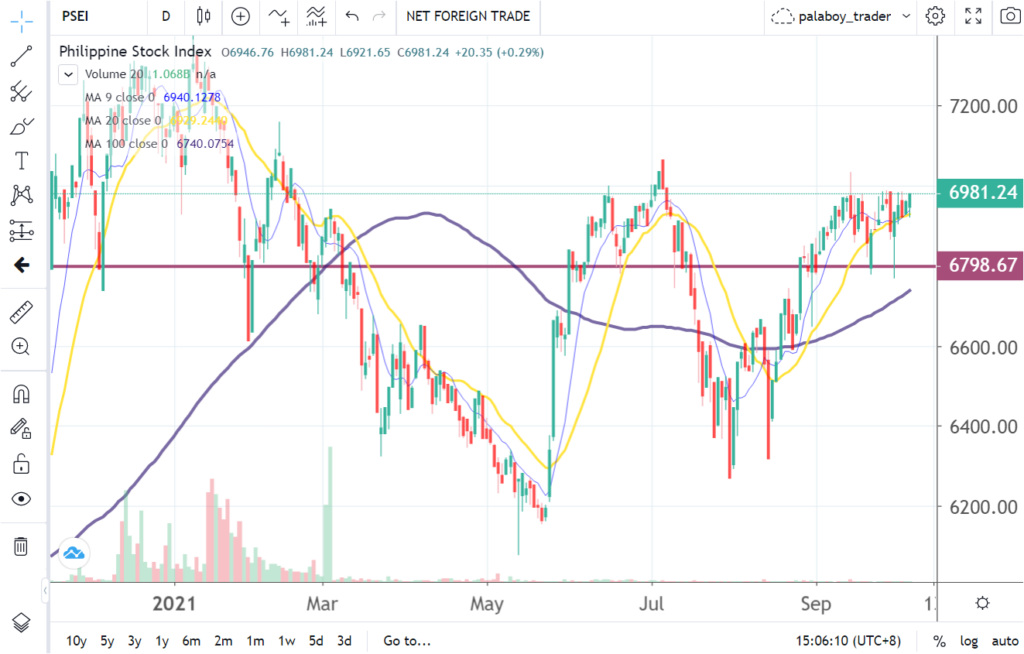 For the Blue chip stocks, Robinsons Retail holdings (5.34%) and Converge ICT (5.0%) continues its gain streak ang led the Blue chips group
1RRHI 5.34%
2CNVRG 5.00%
3GLO 3.80%
4AEV 2.35%
5JFC 2.32%
6RLC 1.12%
7MER 1.03%
8SM 1.01%
9BLOOM 0.69%
10SECB 0.56%
11ACEN 0.34%
12FGEN 0.31%
13AGI 0.19%
For the index sector, Services led the upward movement

Oil Stocks Rises
Oil related stocks breakout from their consolidation prices as investors tries to digest the surging demand of oil products due to high demand coming from countries emerging from the pandemic levels. There is also lack of additional supply from OPEC and the expected spending and activities for the fourth quarter could be the catalyst later for these stocks.
PCOR 3.39 +7.96%
SHLPH 20.00 +3.09%
PNX 11.96 +0.17%