(Last Updated On: October 19, 2021)
PSE market is on a fourth day streak of ending green for the day. It is up by 0.64% as more bullish signals come up. Yesterday major downward movement from AC Energy (10%) and CNVRG ICT (10.711%) reversed there directions helping the market sentiment. The negative market direction yesterday brought by lower China GDP was digested and PSE remain bullish through out the day. There are also news circulating that Banko Sentral ng Pilipinas (BSP) will not add interest rates to help the economy recover.
The index closed at 7,266.31 and ended with a net foreign selling of -65.8 Million a slight reversal from yesterdays 800 Million Net foreign buying. The market will now try to test out its last years high resistance of 7,300 level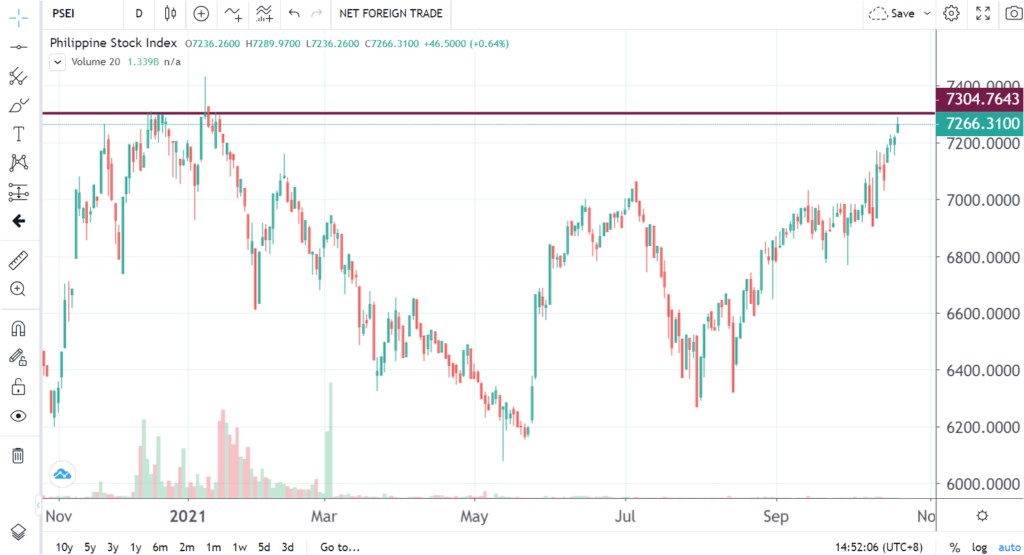 For the Blue chip index CNVRG (10.711%) and AC Energy (10%) led the market as they reversed together at the same day after being dump by traders and investors from previous week due to profit taking. AC Energy have a catalyst as it joins Renewable energy AMI on its Battery Storage business. Globe Telecom (-3.18%) and Puregold (-3.07%) led the decliners for the day.
| | |
| --- | --- |
| Gainers | Losers |
| 1CNVRG10.71% | 1GLO-3.18% |
| 2ACEN10.00% | 2PGOLD-3.07% |
| 3MEG4.25% | 3ICT-1.85% |
| 4SM3.92% | 4SMPH-1.64% |
| 5AGI3.25% | 5MBT-1.61% |
| 6AEV2.78% | 6BLOOM-1.25% |
| 7JGS2.72% | 7JFC-0.96% |
| 8URC2.19% | 8BDO-0.90% |
| 9RRHI1.71% | 9SECB-0.72% |
| 10RLC1.15% | 10AC-0.70% |
| 11WLCON0.18% | 11TEL-0.61% |
AC Energy Corporation (ACEN), an Ayala-led company and AMI Renewables their Vietnamese firm-partner is piloting the installation of battery energy storage system (BESS), as a coupling technology that shall be integrated in their 50-megawatt solar farm project in Khanh Hoa province. Price closed by 10% for the day as the market digest the disclosure. You can read the full report on this link.
For the index sector, Holding companies (2.11%) and Industrial index (1.26%) led the market with the mining sector leading the declines.