(Last Updated On: August 7, 2021)

ICT keep its lead on the stock price movement as it gained 4.01% to be one of the movers in Friday's closing.
Its price close and ended also at 52 weeks high with a price of 184.10 pesos/share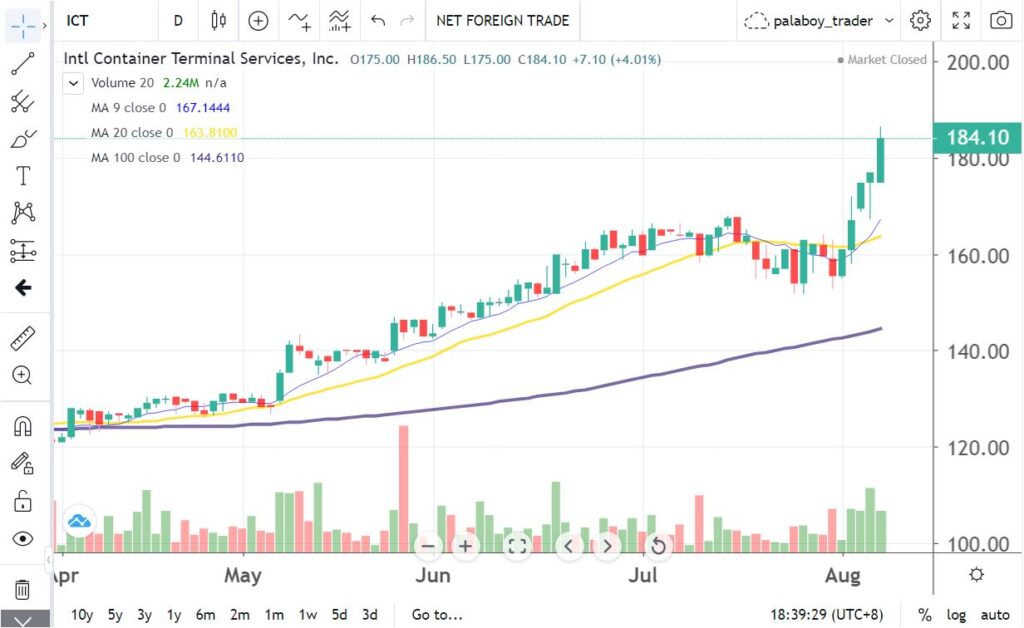 This is at the back of Q2 earnings of 89% a significant increase in income from Q2 last year. Its income statements is as below

It also stated a strong first half of the year income.
ICTSI 1H2021 Net Income Up 73% to US$196.7M; Volume, Revenues & EBITDA across all three geographic segments exceeded 2019 pre-pandemic performance
In summary
Throughput grew 14% to 5.5 million TEUs
Revenues increased 22% to US$882.6 million
EBITDA 28% higher to US$532.5 million
Consistent foreign buying was seen also on the stock with 6 digits each for the past 5 days. Last Friday a net foreign buying of 113.86M was recorded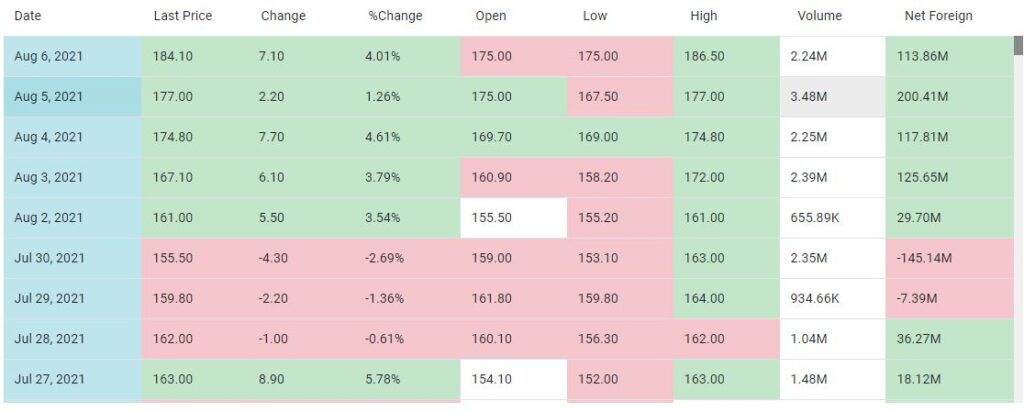 Dividends Declared
It also declared  dividends of 1.01 pesos/share with a special cash dividends of 1.62pesos/share.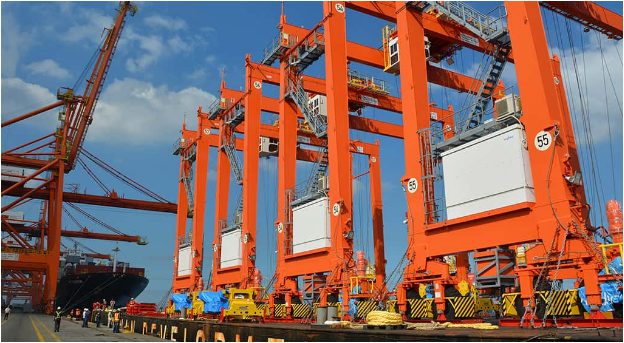 According to its disclosure
"In the Board Meeting held today, August 6, 2021, the Board of Directors of International Container Terminal Services, Inc. (ICTSI) approved the declaration of a regular cash dividend in the amount of Php1.01 per common share, alongside a special cash dividend in the amount of Php1.62 per common share. The total dividend (regular and special) of Php2.63 per common share is payable on September 1, 2021 to stockholders of record holding shares of ICTSI common stock at the close of business on August 20, 2021"
Chairman and President of ICTSI also said
"We are pleased to be able to declare a second dividend of Php2.63 per common share today, divided into a regular dividend of Php1.01 per common share and a special dividend of Php1.62 per common share. This second dividend declaration in 2021, together with the Php2.37 declared last March 2021, brings the total dividends for this year to Php5.00 per share, matching the same level we declared in 2019 before the pandemic. These regular and special dividends are consistent with our long-term commitment to create exceptional value and distribute the rewards of our performance to stockholders over time."