(Last Updated On: August 28, 2022)
The US market suffered significant losses after the Federal Reserve meeting last Friday indicates that there are more rate hikes for the near future as they continuously battle the persistent inflation.
The Dow jones drop by -3.03% and shed 1008.3 points from its chart, Nasdaq decline by -3.94% and loss -497.56 points, its biggest day drop since June and S&P 500 drop by as much as -3.37% or -141.36 points. The broader share index is in correction.
Feds use the interest hikes to battle the effects of inflation but raising interest rates causes investors to reduce their investments in risk assets as lending rate will hurt businesses when they borrow money from the banks.
Speculators expected a lessening of interest hikes but the dovish sentiment from the Feds and the expectation to raise it until next year dampen investors anticipation.
Powell speech indicated that this is necessary for the federal reserve to do to control inflation. "The fed is worried about rising prices and getting inflation under control is emphatically job number one" according to Jeff Klingelhofer, co-head of investments at Thornburg Investment Management.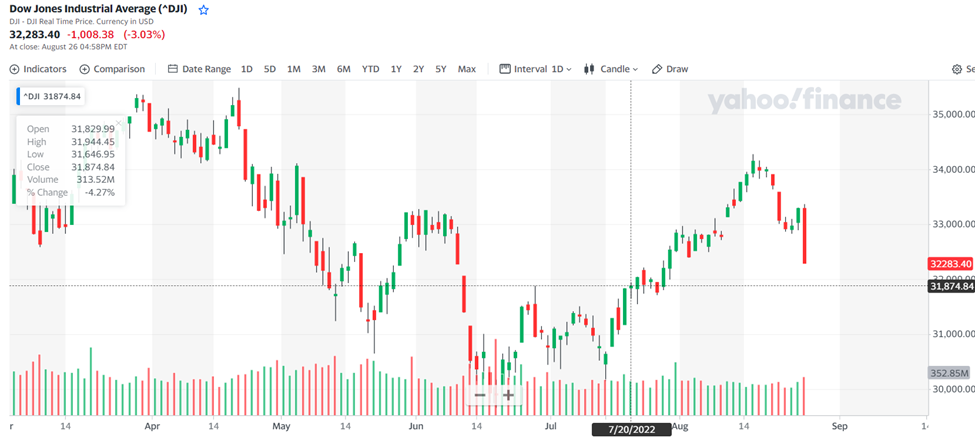 European markets followed the same movement and corrected as well.

It remains to be seen whether Banko Sentral ng Pilipinas (BSP) will follow the same route of aggressive interest rate hikes but there are indications of tightening as well in the future as mentioned by numerous reports.
Last Friday the index closed at 6,752.50. The PSE index is on a Holiday by August 29, 2022, the US market index impact will then be felt by  Tuesday market opening. Next technical support is at 6,580.