(Last Updated On: November 18, 2022)
Solar Philippines has disclosed yesterday that it was able to secure a large parcel of land (2,000 hectares) to be use in its plan to build the worlds largest solar farm in the world.
The news came after the successful completion of its stocks right offering. After the SRO, the stock price of SPNEC has dropped significantly by as much as 30%. After the recent run up of the market however its stock price recovered and was not up by at least 20% from its bottom.
"We expect the updated tally to be reflected in our next quarterly report, from which our public shareholders should have a better appreciation of the assets in SPNEC," Solar Philippines founder Leandro Leviste said.
Yesterday trading stock price of SPNEC closed by up to 4.80% closing at 1.31 pesos per share.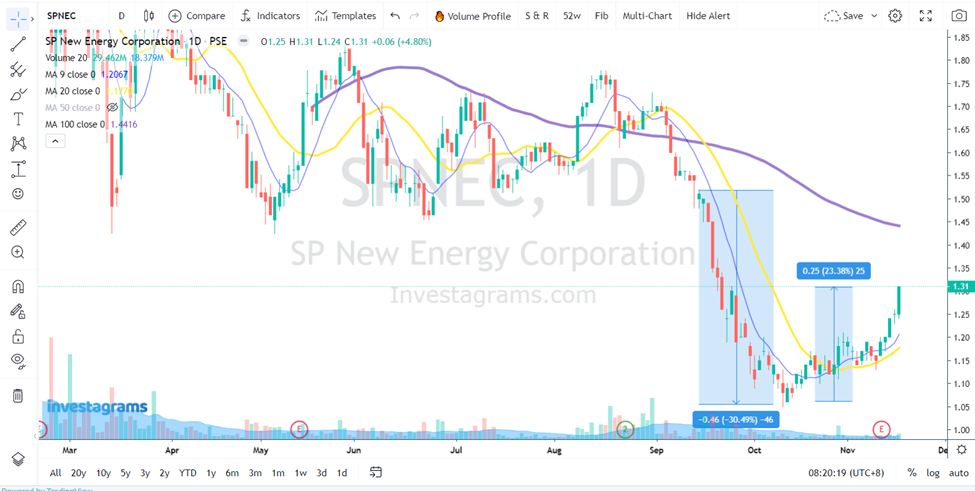 On its stock rights offering prospectus, SPNEC has noted that proceeds of the sale would be use to acquire lands in Nueva Ecija and Bulacan. These includes other projects that SPNEC would own shares in part of its assets for share swap.
One of these projects is Terra Solar Philippines, Inc. (Terra Solar), a joint venture project of Solar Philippines that signed a Power Supply Agreement (PSA) with Meralco on October 24 2022. Under the PSA, Terra Solar would supply 850 MW of mid-merit for around 12 hours per day from a planned 3.5 GW solar, 4.5 GWh battery project in Nueva Ecija and Bulacan.
At over 2000 hectares, the properties secured by Solar Philippines could fit a project that would exceed the capacity of India's Bhadla Solar Farm, currently the world's largest solar farm at over 2.2 GW; as well as exceed the capacity of the total grid-connected solar operating in the Philippines according to the Department of Energy's latest figures as of August 2022
Source: https://edge.pse.com.ph/openDiscViewer.do?edge_no=3934c71cf17642003470cea4b051ca8f