(Last Updated On: May 31, 2022)
The market close by -0.7% today after rallying for the last 4 days of trading. It is now sitting at its support level of 6,700.       
The index closed at Index level of 6,774.68 but noticeably with net foreign value of -232.6 Million, before the pre close period, market has a net foreign buying of around 60 + Million.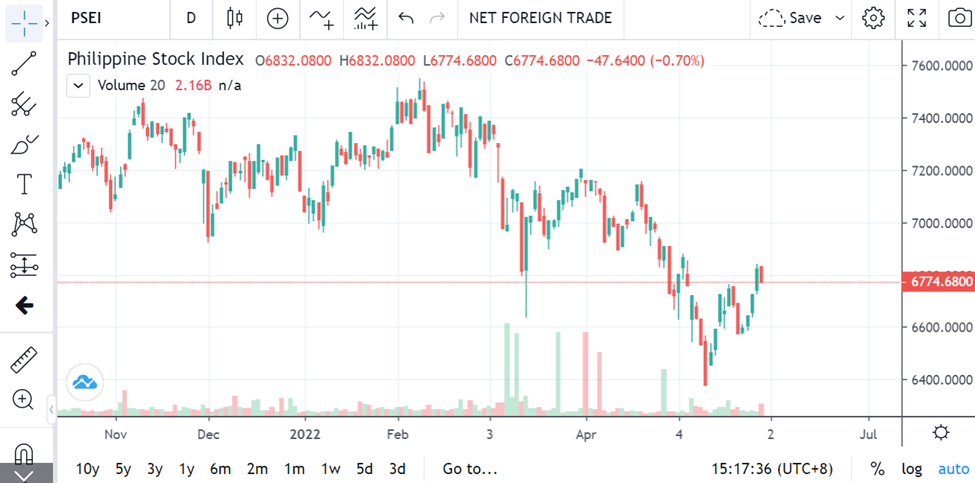 For the index sector, service (-1.87%)  and property stocks (01.42%) led the correction while mining (+0.19%) and financed (1.24%) sector ended gains for the day.

For the Blue-chip index index gainers led by JGS (3.12%) and Banco de Oro (2.54%) while losers led by Monde (-6.33%) and Globe Telecoms (-6.18%). Monde may have been pricing in the results of the MSCI rebalancing.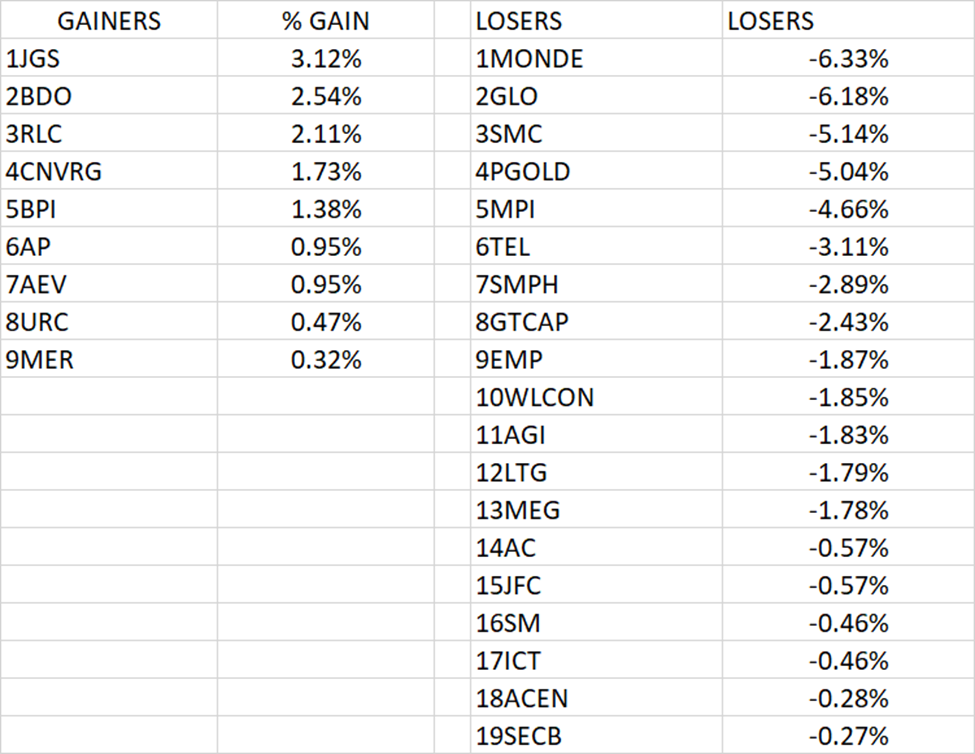 Majority of ASIAN stocks are in green today, Shenzhen leading the pack at +1.92% and +Taiwan at 1.19
| | | | | |
| --- | --- | --- | --- | --- |
| Symbol | Name | Last Price | Change | %Change |
| ^N225 | Nikkei 225 | 27,279.80 | -89.63 | -0.33% |
| ^HSI | HANG SENG INDEX | 21,301.21 | 177.28 | 0.84% |
| 000001.SS | SSE Composite Index | 3,186.43 | 37.37 | 1.19% |
| 399001.SZ | Shenzhen Component | 11,527.62 | 217.34 | 1.92% |
| ^STI | STI Index | 3,254.87 | 15.95 | 0.49% |
| ^AXJO | S&P/ASX 200 | 7,211.20 | -75.4 | -1.03% |
| ^AORD | ALL ORDINARIES | 7,455.20 | -67.4 | -0.90% |
| ^BSESN | S&P BSE SENSEX | 55,734.85 | -190.89 | -0.34% |
| ^JKSE | Jakarta Composite Index | 7,106.71 | 69.14 | 0.98% |
| ^KLSE | FTSE Bursa Malaysia KLCI | 1,543.31 | 0.29 | 0.02% |
| ^NZ50 | S&P/NZX 50 INDEX GROSS | 11,308.34 | 162.84 | 1.46% |
| ^KS11 | KOSPI Composite Index | 2,685.90 | 16.24 | 0.61% |
| ^TWII | TSEC weighted index | 16,807.77 | 197.15 | 1.19% |