(Last Updated On: May 25, 2022)
Several companies from the PSE stock market list was ordered to stop trading by June 1, 2022 if the income statements required is not submitted in time. The violation would be due to failure of providing quarterly results for Q1,2022 and Annual reports.
According to its disclosure yesterday May 24,220 in PSE Edge disclosure notices ,the eleven stocks had Non-Compliance with Structured Reportorial Requirements of the Exchange. On the PSE notice site it states;
Please be informed that, as of the posting of this notice, the listed companies mentioned below have not complied with the structured reportorial requirements of the Exchange under Article VII, Section 17.2 in relation to Section 17.8 of the Consolidated Listing and Disclosure Rules, as amended (the "Rules"), by failing to submit their Annual Reports (SEC Form 17-A) for the year ended December 31, 2021 and Quarterly Reports (SEC Form 17-Q) for the period ended March 31, 2022, on or before the deadline of May 16, 2022.
The eleven stocks mentioned are listed below.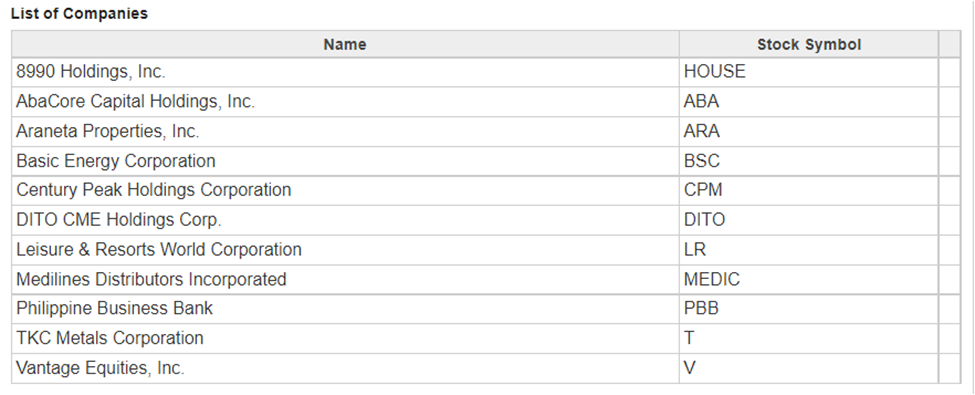 Some of the stocks suspension warning have immediate effects. As of the writing of these article, DITO fell by 5%, ABA fell 6% but recovered already, ARA fell 11% but recovered and is currently down by 5%, BSC fell 11% and now is currently down by 6%