(Last Updated On: May 20, 2022)
This trade was done last February 2019 to June 2019. The trade took some time, almost four months to materialize as the market was in a long sideways channel. During this time if you are already a trader you will notice also the long time the market is taking just to be profitable. Reality of trading is that it's simple but not easy.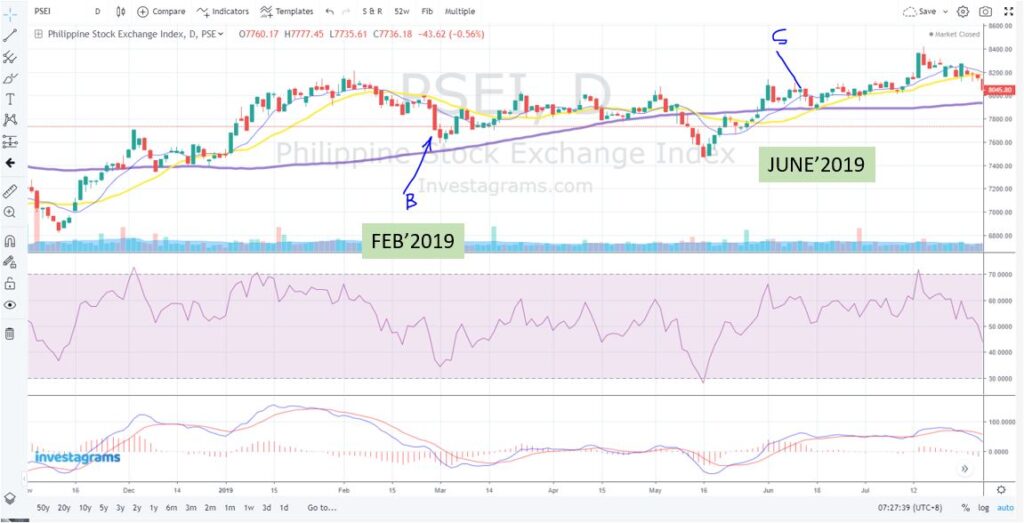 Why Trade Blue Chip Stocks
So, you maybe wondering why trade Blue chips? Well there is also a price appreciation in Blue chips. Even if the price action is not as fast as the small cap stocks, with enough volume you can consider trading also with Blue chips. As I mention on my other articles, the blue chip stocks offer liquidity even in a downtrend, uptrend and sideways market trends.
As a background SM Investments Corporation, also known as SM Group, is a Philippine conglomerate with interests in shopping mall development and management, retail, real estate development, banking, and tourism. It is one of the biggest companies out there.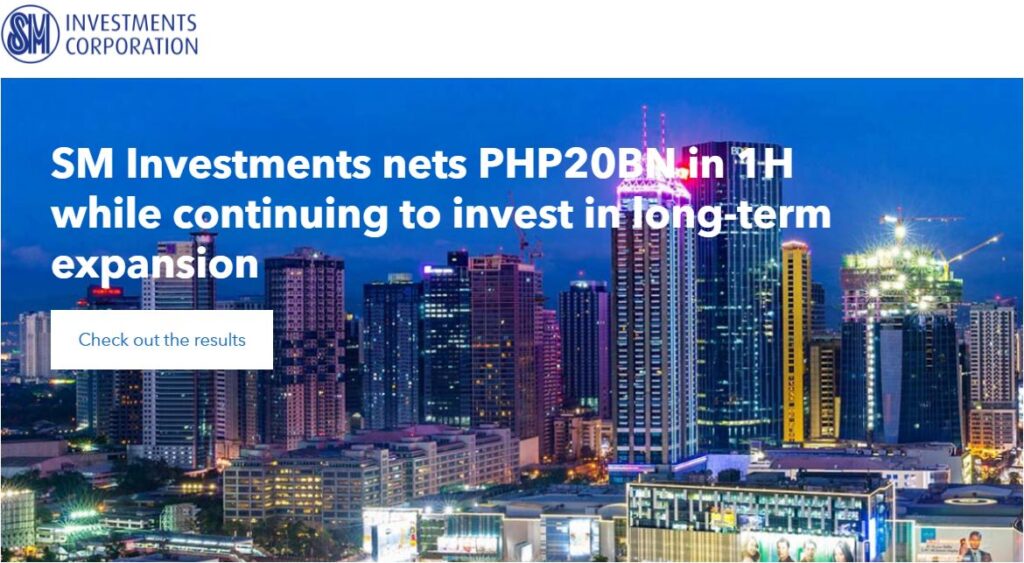 Do you know what are blue chip stocks? You can check our article Blue Chip Stocks, What you need to know to understand how they are considered as such or you can check our long term list of stocks Blue Chip Stock Picks to have an idea which of these stocks are worth investing as of this time
It is also most likely less volatile so if you are a bit risk averted, these stocks are the good trading opportunities especially during pandemic periods like what we have now.
I put the charts inside a box so you can visualize the range of each prices where I bought and sell the stock. This is also know as Darvas Box, it is simply a box guide where the prices are moving in rage. I did few buy on these trade and took profits at different intervals.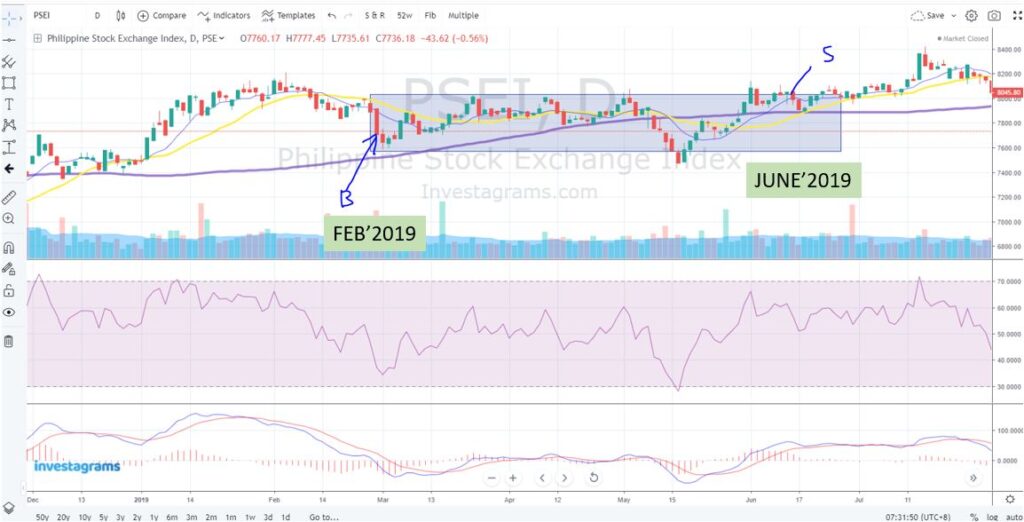 How does a Blue Chip Stocks Move?
Blue chips stocks move similar to our index. As the are the one's making up the list of stocks under the PSEI index they have the same direction and you can observe the same price action movements
If they form a range, they have tendency to move on the range as the market condition remains sideways in a long period of time. You can then take advantage of the range. This trading strategy is know as Range.
How to Trade a Range of Prices?
For range trade setting, to gain from price appreciation, you need to buy on support and sell on resistance. For this case, I did several times of buying and selling. B-denotes buying while S-is for selling a particular share of the stock.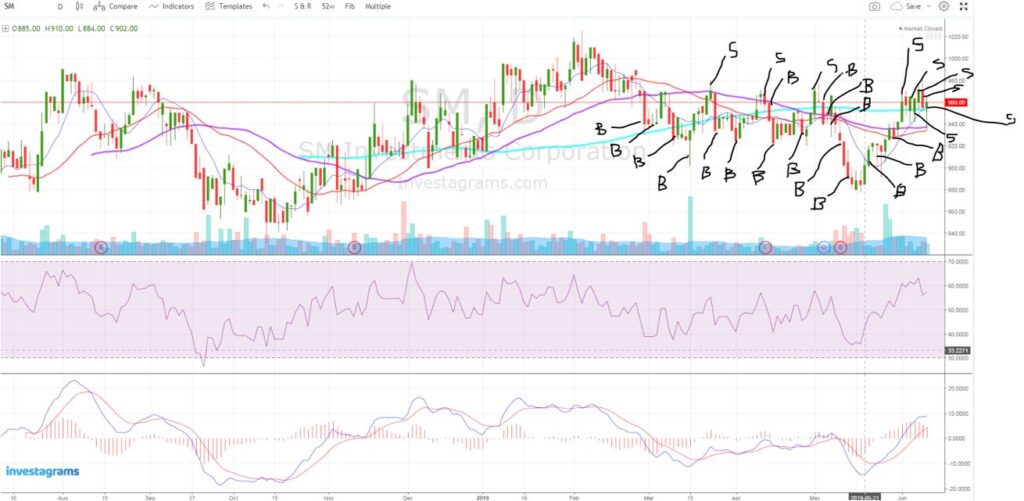 As you can see above my buying and selling happens several times. I am the type of trader that accumulates at different timeframes rather than buying shares one time and wait for its price appreciation. You can count how many times I bought and sell the shares.
You will notice however that most of the buying was done when the stock price is near at the support level.
Why did I sell my shares?
As you can see from the chart below, I have encircled some areas on the Relative Strength Index (RSI) levels of the chart. You will notice here that the price actions tend not to continue when its RSI levels are on this side. It happen many times so I have a target area when I could start selling my shares.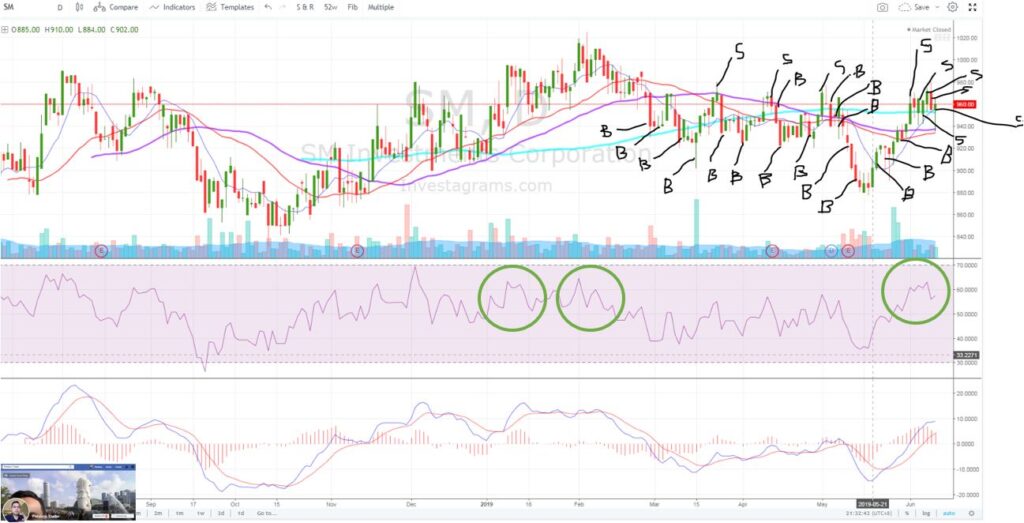 RSI is a basic indicator discuss in one of our topics so better check out our explanation on how to use this to your advantage
You can see here individual trades and amount that I have invested during the time I entered and exited the trades. You will notice also that several times we sold our shares with small gains from it, but doing many times of buying and selling on a sideways range can be profitable if done properly.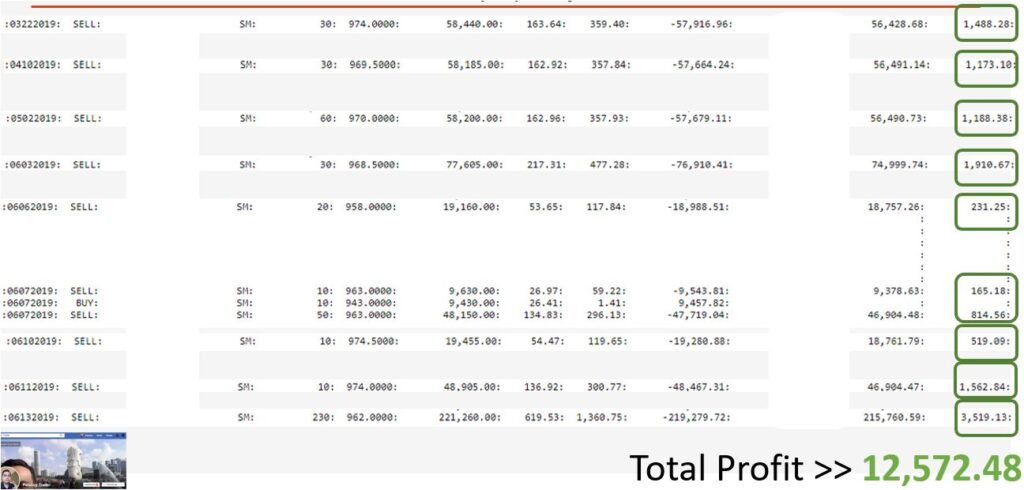 I took all my shares already when the market did not move in few days. I was expecting another drop last time but it did not happened.
Watch the Video Explanation Here