(Last Updated On: October 6, 2021)
The PSE market index (PSEI) managed to break above 7000 level today and close at 1.09% gain, as optimism towards the slowing Covid19 cases for the past few days slowly drop down. It was the first time that lower than 10k cases was recorded yesterday. There was also some good news on slowdown of inflation to 4.8% for the month of September.
The index managed to close at 7057, first time again since July this year, but still got net foreign selling at -356.04Million.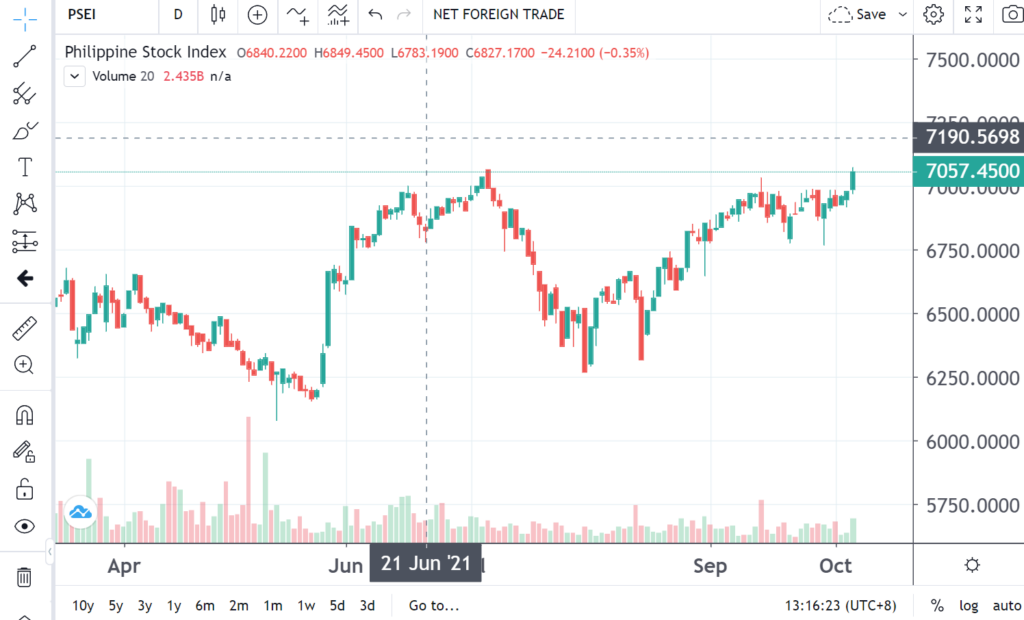 For the Blue chip Index Globe telecom (9.51%) led the index sector together with continues movement from Robinsons Retail Holdings (RRHI, 4.98%) and Converge ICT (CNVRG, 4.76%)
1GLO 9.51%
2RRHI 4.98%
3CNVRG 4.76%
4AP 4.61%
5ACEN 3.68%
6SMPH 3.05%
7GTCAP 2.76%
8ALI 2.30%
9BLOOM 2.21%
10SMC 2.14%
11JGS 1.89%
12BDO 1.78%
For the index sector services and property led the market with all indexes going to Green positions.
Philippine Inflation Eases to 4.8%
The Philippine inflation data could have added positive sentiment to the Market. This months inflation rate at 4.8% is much lower as compared to last month at 4.9%. According to reports this was due to slower transport inflation results at 5.2%. This current level for September is however still outside the governments target of 2-4%. The global prices for Oil products is threatening this value as the country starts to open up as demand is slowly increasing.