(Last Updated On: June 29, 2022)
PSE listed company Megawide anti dummy case vs officials dismissal return investor appetite on the firm.
The court of CEBU on Tuesday June 28,  dismissed the criminal case filed against its officials for the alleged violation on Anti Dummy Law with regards to the construction of Mactan Cebu International Airport.
Before the announcement the stock price of MegaWide is hovering just above 3 pesos and after the announcement have upsurge by as much as 50%. Price is currently at 4.50/share as of the time of this writing.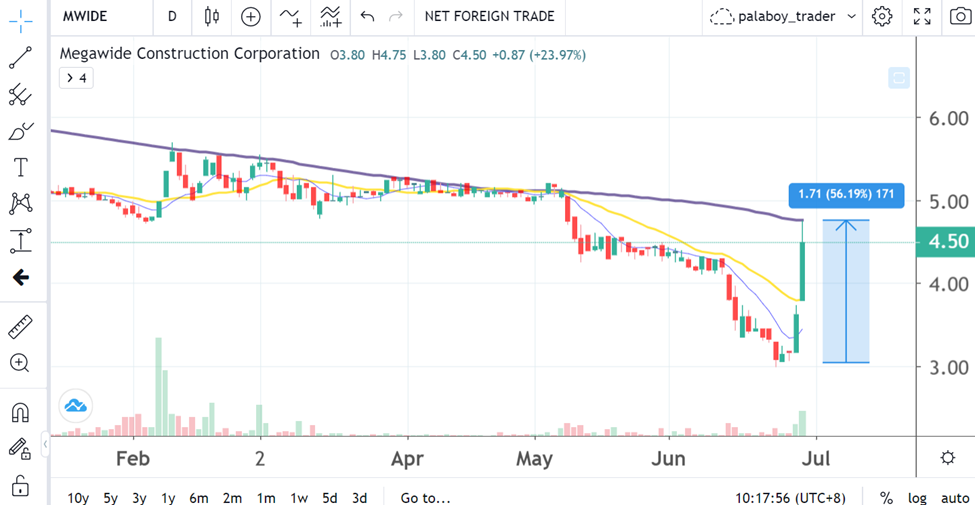 According to its PSE Edge Disclosure yesterday;
"We received today, 27 June 2022, from the Regional Trial Court of Lapu-Lapu City, Branch 68, the Omnibus Order dated 14 June 2022 ("Omnibus Order"), DISMISSING the criminal case against the following Directors and Officers of Megawide Construction Corporation ("Megawide"), in their capacity as Directors of GMR Megawide Cebu Airport Corporation ("GMCAC"), for the alleged violation of the Anti-Dummy Law (the "Case"):

a. Mr. Manuel Louie B. Ferrer – Executive Director for Infrastructure Development and Chief Corporate Affairs and Branding Officer of Megawide;
b. Mr. Jez G. Dela Cruz – VP-Corporate Finance and Planning of Megawide;
c. Mr. Edgar B. Saavedra – Chief Executive Officer and President of Megawide; and
d. Mr. Oliver Y. Tan – Director of Megawide

(the "Megawide Respondents".)


The dismissal of the Case arose from the Motion to Quash Information filed by the Megawide Respondents on 24 March 2022.