(Last Updated On: September 23, 2022)
Converge ICT (CNVRG) have disclosed yesterday that it allocated 1.5Billion pesos of its capital to buy back its own shares to prevent further falling down of its stock prices.
Price action for converge ICT has been down lately as part of the pessimistic market sentiment due to high interest rates and Inflation in the US and when its biggest investor Warburg Pincus started unloading 3.8% of its shares.
The news broke out yesterday that Converge ICT is speculated to be remove as well from the MSCI index rebalances this coming November.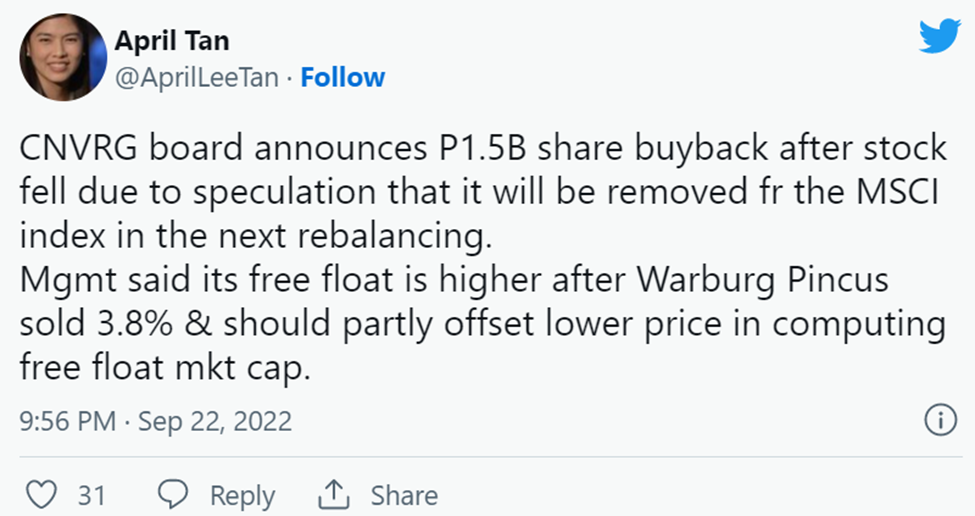 On its PSE edge disclosure Converge ICT stated, "On September 22, 2022, the Board of Directors of Converge Information and Communications Technology Solutions, Inc. (the "Company"), as part of its objective to increase shareholder value and to demonstrate confidence in the Company's fundamental value, business, and prospects.
It approved a share buy-back program to acquire common shares of the Company up to the amount of one billion five hundred million pesos (PHP1,500,000,000)"
Subject to necessary approvals and disclosures, shares acquired during the buy-back may be re-issued by the Company for valid corporate purposes, such as for an employee stock plan, if any.
Shares purchased during the buyback may be issued again by the company for legal corporate reasons, such as for an employee stock purchase plan, if any, subject to the required disclosures and approvals.
Converge ICT prices fell down to 14.92 pesos/share bringing it to its 52 week low location.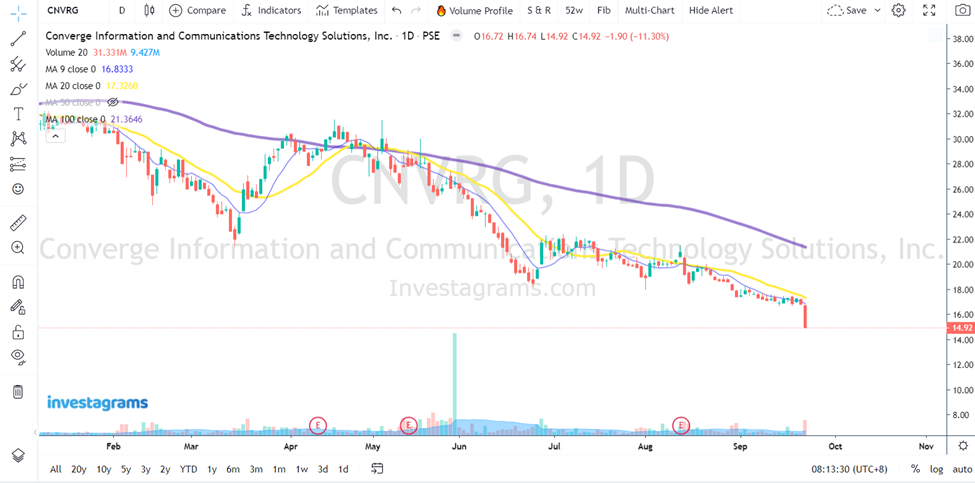 Since the lockup term on 1.19 billion shares (15.83%) held by the company's second-largest shareholder, Coherent Cloud of US private equity firm Warburg Pincus, expires in October 2021, the stock has been subject to selling pressure.
The public float shares of Converge ICT has since then increase from 20.43% to 30.91%.