(Last Updated On: August 10, 2021)
According to PSE edge disclosure of Puregold it had a robust income for the first half of 2021.
It then stated that it has 17.3% growth compared to Php 3.4 billion in the same period in 2020 and with consolidated net income of Php 3.99 billion in the first half of 2021.
According to Mr. Vincent Co, President of Puregold, the company's digitization and e-commerce website enabled the company to connect with its consumers during the Covid19 pandemic. They have created Puregold mobile app and  Puregold channel

However its consolidated net sales decreased by 7.1% to Php 76.18 billion in the first half of 2021. 72% of the revenues is attributed from the Puregold Stores network and 28% coming from S&R Membership warehouse clubs and S&R New York Style Pizza stores.
Yesterdays trading, PGOLD lost 1.173% and closed at 39.70 pesos/share. The prices are staying above the 100MA moving average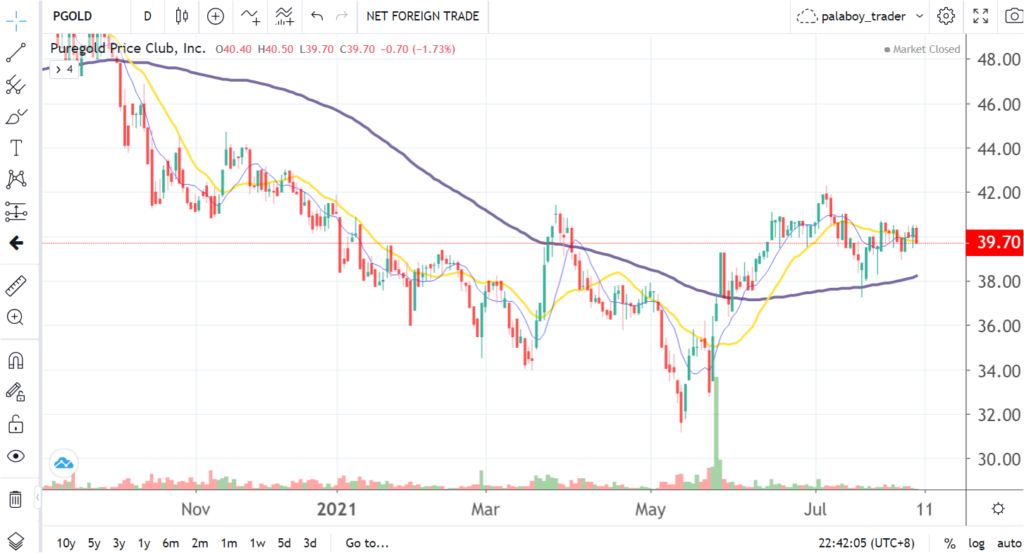 Consolidated Income from Operations grew to Php 6.14 billion in 1Q 2021, up by 7.5% compared to Php 5.71 billion during the same period last year due to strategic costs controls.


Also included in the PSE Edge disclosure, it stated;
"As of end June 2021, Puregold opened 15 new organic stores out of the planned 30 to 40 new Puregold stores. S&R also plans to open 2 new warehouse clubs in the second half of 2021. Puregold group currently has a total of 484 stores nationwide. These include 418 Puregold stores, 20 S&R membership shopping warehouse, and 46 S&R New York Style QSR"