(Last Updated On: August 31, 2021)
The market was in red for the day but suddenly closes in green during the pre-closed period. Net foreign buying is at 306.96Million. This is the sixth straight day of foreign accumulation.
Net foreign buying started last August 23 and continues up to today.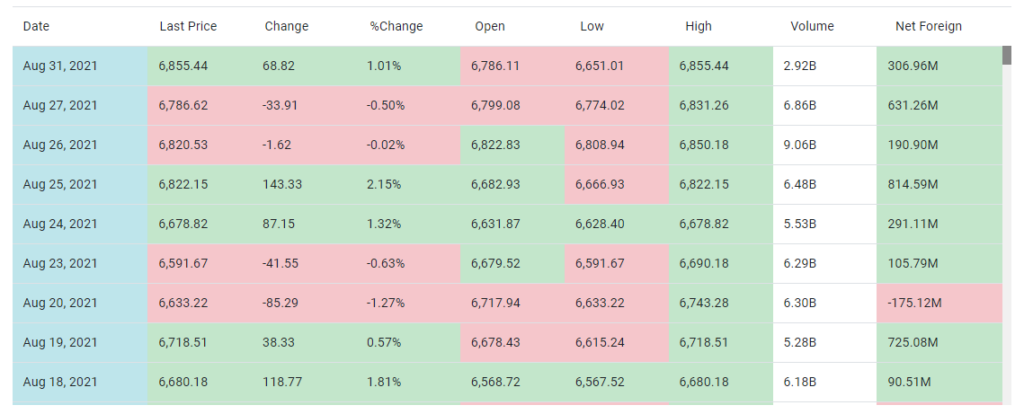 The index was in deep red by more than 1.7% for the day untill 11:30am. News about the Delta variant being now affirmed by the World health organization representative Dr. Rabindra Abeyasinghe says that the Delta variant is now the dominant coronavirus variant in the Philippines. Yesterdays Covid 19 cases reach an all time high of more than 22,000 cases.
The sudden reversal in the prices direction lead to an optimistic closing of more than 1%. PSEI market closed higher than last Friday closing to 6855.44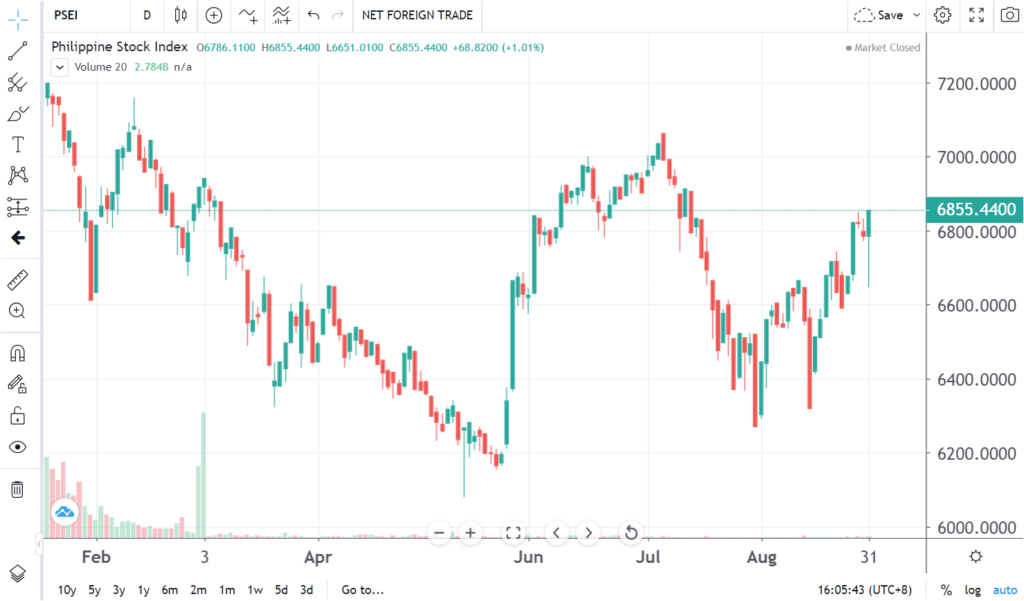 Except for the finance index (-0.67%), all other indexes ended with positive results. Holdings top the list with 2.05% uptick followed by the holding companies lead by AEV. For the individual stocks Aboitiz Power corporation broke its long time resistance with a gain 0f 6.87% and Aboitiz Equity Ventures (AEV) with 6.82% gain.

1 AP6.87%
2 AEV6.82%
3 ICT4.55%
4 PGOLD4.38%
5 URC4.36%
6 ACEN4.24%
7 SM3.49%
8 JFC1.10%
9 AGI0.78%
10 ALI0.75%
11 BPI0.36%
12 SECB0.27%
13 RRHI0.20%
Meanwhile, ASEAN indexes are also exhibiting good index gains for the day.