(Last Updated On: February 10, 2023)
No doubt Meralco (MER) move the lowly motivated index movers for the day as it started trading strongly by moving 8% and closing at 11.31% up from its drop yesterday. It closed to 315 pesos per share after investors confidence move back.
Stock price of MER opening more than 8%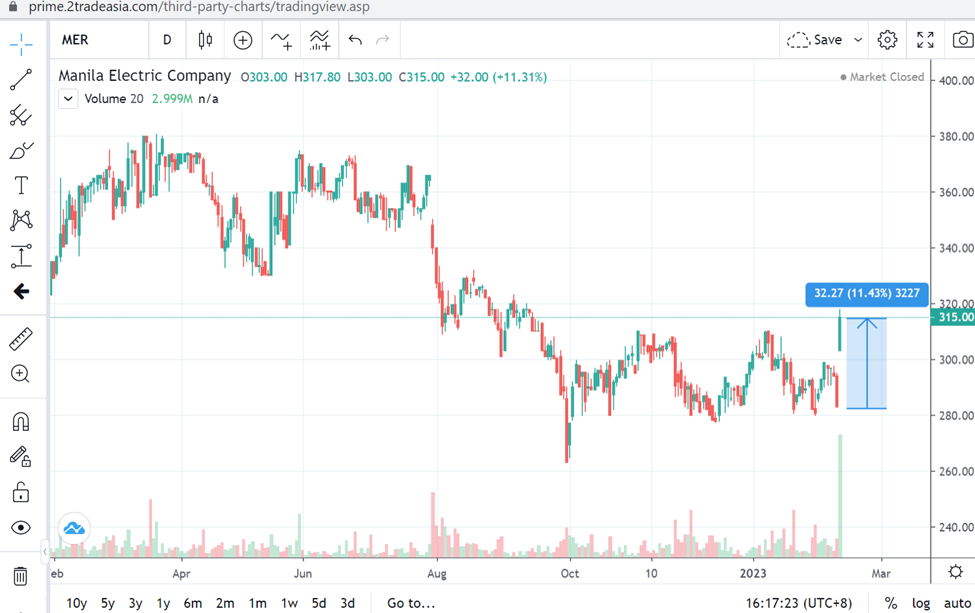 There were initial speculations that ACEN, Globe and MER are to be removed since January.

MSCI rebalancing results came early in the morning at it showed that MER have hold its place. For the MSCI global index there are no new additions on the list but ACEN and Globe telecoms were removed.
For the MSCI small cap index there are no additions as well but Cosco and FILRT will be remove.
Effectivity of the recent rebalancing will be February 28, 2023.

The MSCI Philippines Index is designed to measure the performance ofthe large and mid cap segments ofthe Philippines market. With 17 constituents, the index covers about 85% of the Philippines equity universe .
Why is MSCI Important?
MSCI index represents a suite of large, mid and small cap indexes designed to accurately represent and measure global equity markets as they evolve, within a single framework. An extensive suite of indexes designed to represent the performance of the most common ESG investment approaches.
Other PSE Related Articles for you: