(Last Updated On: October 27, 2022)
The stock price action of DITO CME holdings has been going up for the last 3 days due to rumors of possible investor. It peaked to ~27% since the news came out.
DITO CME have not released any reports yet regarding this speculation.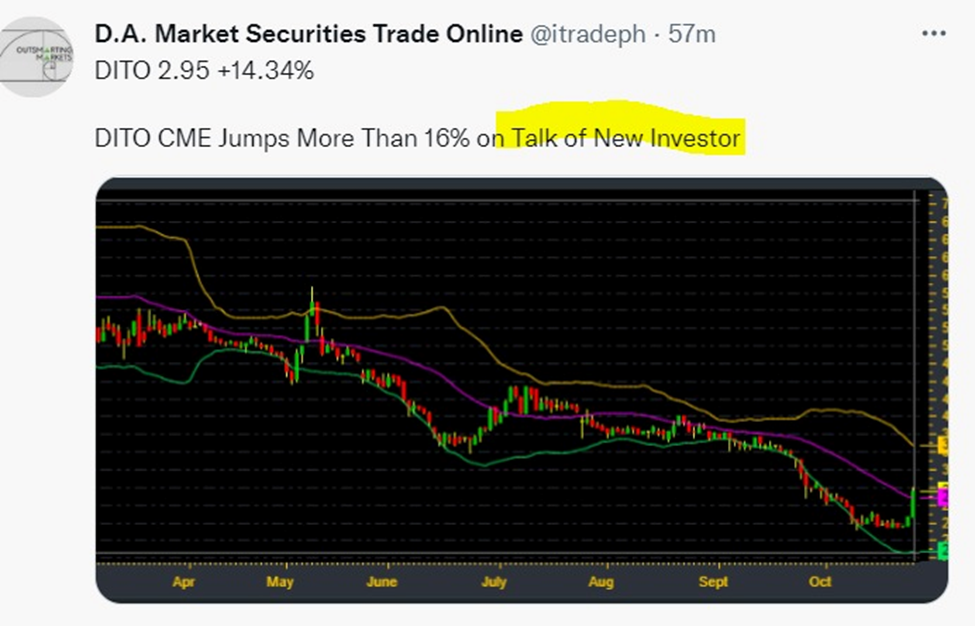 DITO CME holdings stock price is currently up by 14% from 3 days of trading and as of the writing is at 2.90pesos per share.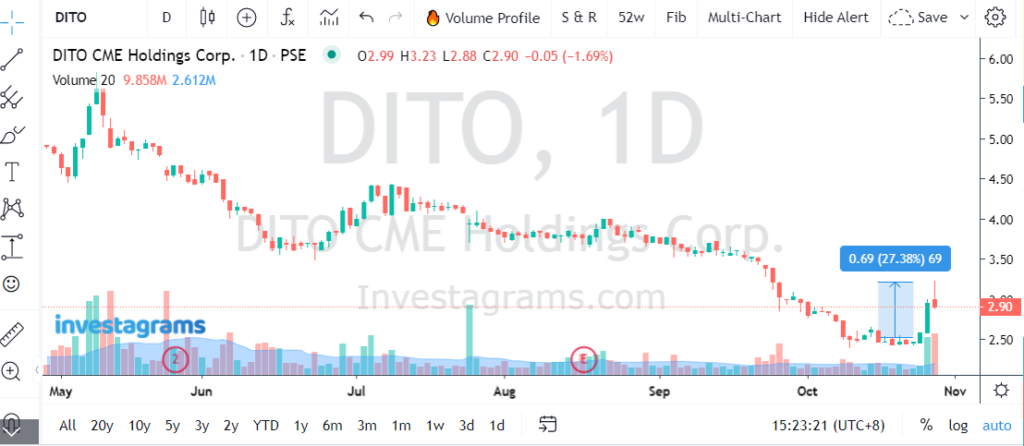 Its previous disclosure on PSE edge, DITO CME Holdings is trying to settle the demand letter reportedly sent by PLDT.
In connection with the reported demand letter that was sent by PLDT to our subsidiary, DITO Telecommunity ("DITO Tel"), DITO Telecommunity believes that there is no material breach. It will also ensure that the company will thresh out and exhaust all available remedies. The issue is currently being discussed by both DITO Telecommunity and PLDT.
Source: https://edge.pse.com.ph/openDiscViewer.do?edge_no=cc720198401a36e03470cea4b051ca8f
According to a news released by the Manila Times, PLDT has welcome the announcement made by Dito CME with regards to the settlement of its P430Million debt.
"But DITO must demonstrate its good faith by ceasing its attempts to confuse the issue and to mislead the public by claiming that PLDT's efforts to collect on DITO's debt is somehow an anticompetitive effort or an interconnection issue that merits some unspecified "legal process" rather than just DITO's simple payment of its past due P430 million debt."
According to its PSE Edge disclosure last August 30, 2022, Ernesto Alberto, DITO CME is open to sell down 53% stake in DITO Telecom to raise equity share to help fund venture's expansion and has asked banks to find it an "ideal private equity placement partner".
Source: https://edge.pse.com.ph/openDiscViewer.do?edge_no=a65b1504d7b71da83470cea4b051ca8f