(Last Updated On: May 29, 2022)
The Philippine stock exchange has approve the 309Million initial public offering of Balai ni Fruitas. Balai ni Fruitas is a subsidiary of the PSE listed FRUITAS Holdings Incorporated.
It will offer 412.5 Million common shares at an initial maximum price of P0.75/share. The total amount of shares came from 325Million primary common shares and Fruitas will be selling 50Million shares as well. For the over allotment option Fruitas intend to sell an additional 37.5Million shares.
It will offer to the public up to 27.6% of its shares and will have up to P1.12 Billion market sale at the maximum offer price.
On the website of Balai ni Fruitas, business history states that;
For 16 years, Balai Ni Fruitas Inc. (formerly known as Buko Ni Fruitas Inc.) has been committed to providing the freshest products with utmost quality. It is home to three well-known brands: Balai Pandesal, Buko Ni Fruitas, and Fruitas House of Desserts – which offers a wide selection of delectable foods and beverages that has consistently kept the customers happy, excited, and satisfied
Since its establishment, Balai Ni Fruitas Inc. has continuously expanded locally, with stores as of September 30, 2021 totaling to 69 across the country.
Balai Ni Fruitas Inc. is a subsidiary of Fruitas Holdings, Inc. and thus it reflects the company's objective of making fresh and healthy products accessible to all Filipinos.
Brands of Balai ni Fruitas includes Balai pandesal, Buko Fruitas and Fruitas house of desserts

Balai ni Fruitas is 100% owned by FRUIT Holdings Incorporated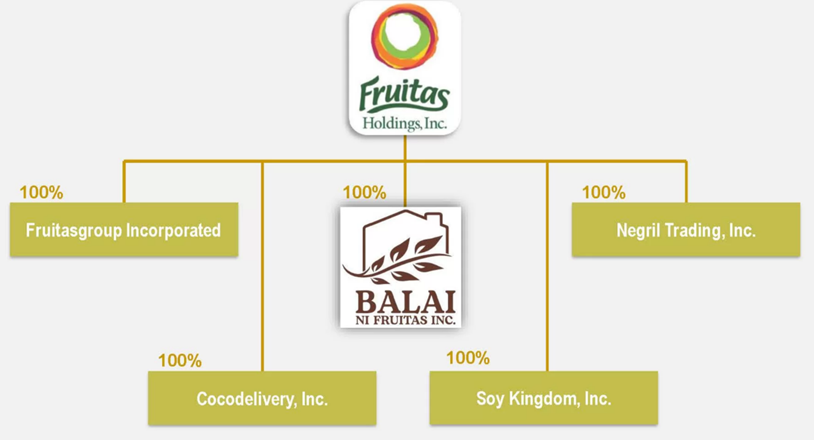 The final offer price will be set in June 14 and determined through a book-building process and discussions between the Company and the Issue Manager, Bookrunner and Underwriter.
IPO is scheduled to be conducted in June 17-23 and PSE listing will be on June 30,2022. It will be listed in Small, Medium, and Emerging Board of the PSE. Balai ni Fruitas will use the proceeds of the IPO to expand its 23 stores to 200 stores by 2026
FRUIT posted EBITDA of Php53 million in 1Q2022, with EBITDA being consistently positive dating back to 3Q2020. FRUIT registered a net income of Php6 million in 1Q2022, higher than the breakeven of 4Q2021, but a significant improvement from a net loss of Php16 million in 1Q2021.
FRUIT had about 700 stores in its network in March 2022 and had already added about 10 stores in 2022 until May 23, 2022.