(Last Updated On: September 16, 2022)
Aboitiz Power is set to buy 35.4% of STEAG GmbH ("STEAG") total issued and outstanding capital stock. This is in accordance to the use its right of first refusal ("ROFR") to buy the portion to which it was entitled to with STEAG.
STEAG GmbH ("STEAG") has previously sent a notice to Aboitiz Power indicating its desire to sell its interests in the Company.
On its PSE edge disclosure, Aboitiz Power stated that this is an excellent chance to contribute to the sustainable management of an existing generation plant that is an essential part of the Mindanao grid. It will also offers many Filipinos access to reliable and inexpensive power.
This plant will be able to export much-needed power to the Luzon grid, which has recently encountered constrained supply reserves, after the Mindanao-Visayas Interconnection Project is completed.
Since this is an existing generation facility, no emissions are contributed to the Philippines' overall GHG emissions.
AP stock price is poised to break from its recent consolidation range after the news broke out. Share price closed at 32.85 pesos per share.
Aboitez Power is engaged in providing thermal and renewable energies.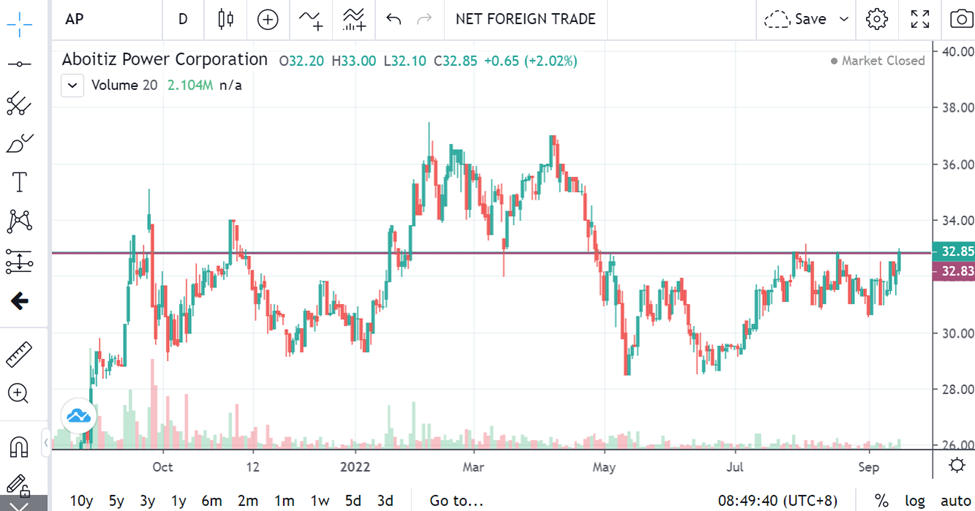 A company called STEAG State Power Inc, was legally incorporated under Philippine law to carry out the development, financing, construction, testing, commissioning, operation, and maintenance of a 210 MW coal-fired power plant at the PHIVIDEC Industrial Estate in Misamis Oriental, Mindanao.
Aboitiz Power will end up owning 69.4% equity interest in the Company after completion of the acquisition.
Details of the share purchase agreement between Aboitez Power and STEAG, as below.
Number of shares to be acquired or disposed includes common shares of 109,258,684 and redeemable preferred shares of 58,389,796.
The Percentage to the total outstanding shares of the company subject of the transaction is 35.4%. The price per share is at US$0.226.
Nature and amount of consideration given or received : The total Purchase Price for the Shares is US$36,081,554.90, plus locked box interest at a simple rate of 4% per annum (on the basis of a 365-day year) from 1 January 2021 to 31 March 2022.