(Last Updated On: October 19, 2022)
Yesterday, the  board of Directors of DMCI Holdings, Inc. (PSE: DMC) approved the declaration of P0.72 per common share. This is a special cash dividends for shareholders on record as of November 2, 2022.

The dividends will be taken from its restricted retained earnings as of October 17,2022. Ex-dividend date will be on October 27, 2022, while payment will be made on November 16, 2022.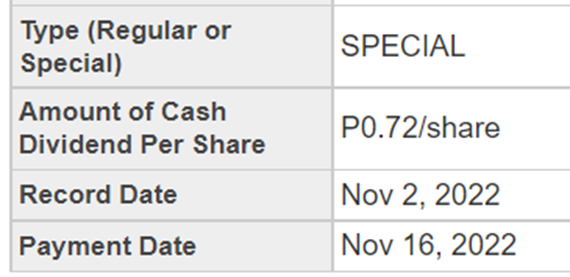 Last April, DMC paid its eligible shareholders a total of P0.48 per common share in regular and special cash dividends.

With this October declaration, DMC's total dividend payout for 2022 will be P1.20, 25 percent more than the P0.96 in total dividends declared last year. The total payout translates to a cash dividend yield of 11.32 percent based on its October 17, 2022 closing price of P10.60.

In all, DMC will end the year with P15.9 billion in dividend payments to its shareholders, which represent 92 percent of the company's consolidated core net income in 2021.

DMCI Holdings has a dividend policy that commits to a dividend payout ratio of at least 25 percent of the preceding year's consolidated core net income.
Information source: https://edge.pse.com.ph/openDiscViewer.do?edge_no=244d68f446c094493470cea4b051ca8f
One of DMCI subsidiaries recently got its newest project from the build of its first subway project which will take around 67 months to complete. This project will cover Quezon Avenue and East Avenue underground stations and tunnels for the Metro Manila Subway Project.
DMC stock price closed at 10.16 pesos per share.